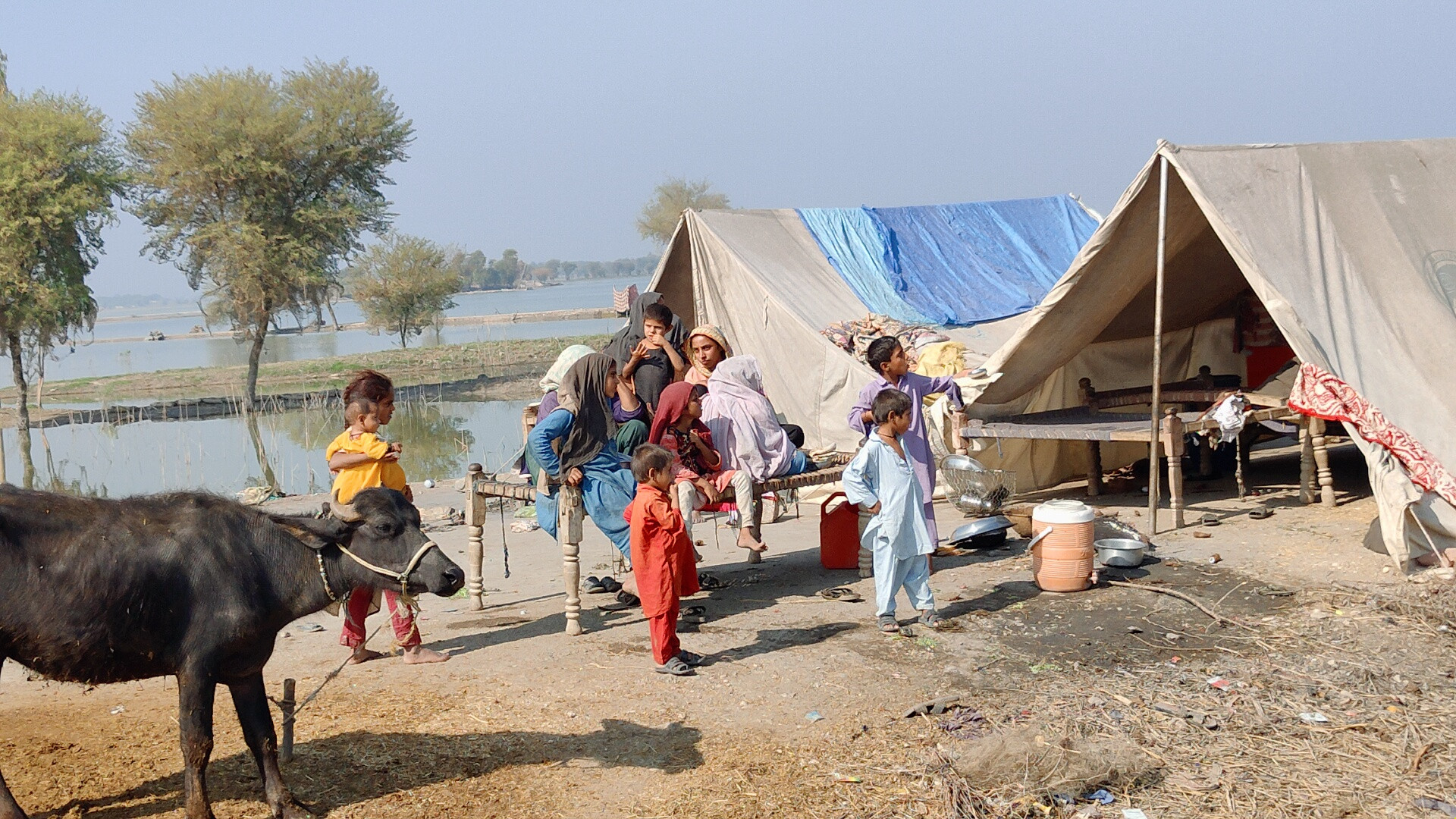 Saduri is cooking rice on a mud stove in a settlement of about sixty makeshift tents made by propping blankets, rallis, and charpoys together. Since the floods in August, this has been their home.
On the side of the Indus Highway as it passes through Naseerabad Tehsil of Qamber-Shahdadkot District. The 50-year-old tells her two children that food would be ready soon. Her husband also impatiently waits for the food to be served as it is the one meal Saduri's family will get for the day.
When her children cry because of hunger, Saduri finds it difficult to hold back her tears, because it reminds her of her home in the village before the catastrophic floods destroyed everything they had. Saduri's family and many others have now been in this situation for four months. Leaving her house damaged by monsoon rains and floods, they came to live in these difficult conditions beside the highway.
Some 737,000 houses were destroyed in the floods in Sindh, out of which one million houses were partially damaged, and about 2.9 million people became homeless. According to the Chief Minister of Sindh, Syed Murad Ali Shah, the loss in Sindh during the flood amounts to $16 billion.
Not only Saduri's entire house, valuables, and personal belongings were washed away, she also lost her two younger children. They had high fever, while no food or medical treatment was available. Now she fears that in the winter cold, her other two children might become ill.
Saduri presses her palms to her eyes to stop her tears as she recalls how the merciless rain wouldn't stop and then the flood water came and destroyed everything. Along the Indus Highway under the open sky, hundreds of people live in the same settlement as Saduri, as their villages are still flooded.
She stopped talking and stared into space. "As winter is here and we have no warm clothes," she says, "I am scared to go through the pain of seeing my children dying of illness again.
All the houses in the village have been destroyed and the crops washed away. The water is still there so we cannot go back. We have forgotten what happiness is."
Arbab Khoso, 55, is a farmer from Goth Allah Dino Airi, in Warah city, located about 45 km west of Larkana. He also lives in the tent settlement.
Khoso says that for the last three months, the government supplied rations of grocery staples every few weeks. "How are we supposed to use the rice and sugar that are mixed together," he asks. "Are we supposed to survive on meethay chawal [sweet rice]? We live in very difficult conditions, and I'm doing some odd daily-wage jobs to be able to have some money for survival."
Now the winter season has added to their woes. Since the government has not provided tents to all the displaced families, the majority has made their own makeshift shelters, with little or no protection against the winter cold.
Earlier the government of Sindh had announced that complete assistance will be provided to the flood victims, along with rationing of essential items. This has been consistently followed by announcements and speeches about their successful rehabilitation. But in reality, the situation in the flood-hit areas is quite different.
According to the flood victims, they receive a ration package only once a month, which does not does not last more than two days. "How can our family of seven people share one blanket provided to us?" asks Khoso. "The nights are getting pretty cold and the elderly and children need more warmth. We are disappointed and shouting for help but in vain."
Mohammad Ismail Chandio, 45, is worried about his small children falling ill in the cold weather. "A lot of children in the camp are sick because they have no warm clothes or cover," he says. "Only two blankets were provided to us which are being shared by 10 people. Earlier, 10kg flour, 2kg sugar and rice were given to us on every tenth day. Now we receive a monthly ration and it is difficult to survive on such little food. Although the flood water has receded from our village, we don't have enough money to go back home."
On the one hand, the flood victims are worried about rationed provisions and on the other hand, they fear contracting water-borne disease.
They suffer from various diseases, but the medical camps set up by political and social organisations and NGOs are inadequate. Also there is a shortage of medicines in government hospitals.
Saduri's husband, Mukhtiar Buriro, is a diabetic who has waited for four months now to return to the village as soon as the flood water recedes. In this time, his situation has deteriorated so much that the doctors of the medical relief camp have advised him to go to Larkana hospital.
But Buriro says that in a situation where there is no certainty about two meals a day, they can hardly afford medical treatment. "Initially, the government helped with food rations but gradually we have become neglected and forgotten."
In Sindh, the Awami Workers Party and Women Democratic Front have distributed rations and set up more than 50 medical camps in various districts. "You can't provide food rations and medicine to just a few thousand people when there has been such a large-scale destruction," says Bakhshal Thalho, the secretary-general of the Awami Workers Party. "So far, we have managed to provide treatment to about 30,000 people. The majority of flood victims are still being forced to live in tents on the roads in the winter season, while the federal and provincial governments remain non-serious about their rehabilitation. On the other hand, not enough areas have been surveyed because some are still underwater. The flood victims who had taken shelter in the cities are being forcibly evicted, so now there is no option but to stay on the roadside."
Thallo believes that environmental destruction and oppression of common people is a part of global capitalists. "It show the incompetence of our government, and the corruption of bureaucrats," he lashes out in anger. "People are not their priority, collecting capital is."
Children have been badly affected by the flood-induced health crises erupting across Pakistan. According to the Unicef, one crore children are suffering from various diseases due to floods in Sindh and Balochistan. More than one in nine children under the age of five are severely malnourished, while the majority suffer from diarrhea, malaria, dengue, typhoid, and other diseases. Additionally, there is also a fear of damage to their mental health. Renowned psychiatrist Dr Eshwer Kumar sees the post-flood situation as another pandemic in the making.
"Since they expected but did not get financial and social security or support from the government for rehabilitation," he points out, "we might be looking at a pandemic of psychological issues among the flood victims in the near future. Post-traumatic stress disorder is common among them, followed by depression, anxiety, and suicidal tendencies due to the loss of homes, valuables, crops and livelihoods. All over the world, after any disaster, victims are provided with all kinds of possible care, which includes psychological check-ups and medical care. But this has not been the priority with our government."
The miserable living conditions not only pose a grave health risk for children, pregnant women living in relief camps and makeshift huts also face many health issues because of malnutrition and unavailability of medicines.
According to Population Council, a New York-based American reproductive health organisation, there are over 600,000 pregnant women in the flood-hit areas of Pakistan. Out of which 130,000 in Pakistan are in dire need of healthcare and treatment. Daily, 2000 women give birth in these unsafe conditions.
"There are 47,000 women in the relief camps in Sindh," says Azra Pechuho, the provincial health minister, quoting numbers that differ from the council's research. She does not say how many flood-affected pregnant women are living in self-help huts on the roads and paths of Lanai city of Relief Camp, Larkana.
Eight-month pregnant Afroze Khatoon Lashari, 44, lives in a relief camp in Naseerabad tehsil, Qambar-Shahdadkot district. She has two unwell infants. "I had a premature baby who is sick and weak because he is terribly malnourished," she says. "When we go to the hospital, they just give pills for the small baby instead of a syrup. X-ray facility is also not available."
Shaukat Tunio, an official of the People's Primary Healthcare Initiative, a partnership programme of the Government of Sindh, in tehsil Naseerabad, says that every day around 150 pregnant women come for medicine.
"For maternity issues, we refer them to Larkana hospital," he says. "Only basic medicines are provided here." But most of the flood-affected pregnant women of Naseerabad disagree with Tunio.
Abida Channa, leader of the Women's Democratic Front, is engaged in providing medicines and rations to flood-affected pregnant women. She says that Pechuho's numbers are incorrect and that the number of flood-affected pregnant women is much higher.
"Every day we go to different camps and see a large number of women who are pregnant and not at all well, as they do not have any official medical help. They have anaemia, shortness of breath and weakness, among other ailments."
Zulekhan Lashari, 48, feels pain and suffocation, has breathing problems and blood pressure issues but there is no medicine available and she cannot afford treatment.
Fauzia is in the eighth month of her pregnancy and has been told by a visiting doctor that she has anaemia. "I haven't got any treatment yet because when I go to the government hospital, it is too crowded. So I just return home without seeing the doctor because I get fatigued quickly."
Dr Shahida Magsi, a professor at Sheikh Zayed Women's Hospital, Larkana, says that the floods have badly affected health facilities in small and big cities of Sindh, due to which we have a lot of congestion in this hospital. Health facilities in Ratodero, Dokri, and other cities are being restored after which the pressure here will be reduced.
Prior to the flood, it would take 30 minutes to reach the hospital but after the flood, it takes two to three hours to reach the hospital from surrounding villages. Because of the increased commute time, patients suffer even more and some pregnant women have arrived at the hospital with their uteri ruptured.
Four months have passed by since the floods and monsoon rains, but despite huge foreign funds and the entire country donating generously for flood affectees, the situation is the more or less the same in all the flood-affected districts of Sindh. They are homeless, and need food, shelter and rehabilitation, which is no way near completion.
Last week, the Awami Workers Party Sindh were planning a long March from Khairpur Nathan Shah to Larkana for the rehabilitation of flood victims from December 7 to December 11. (please confirm while editing)
Meanwhile, seemingly oblivious of the sad situation of flood victims which is a stark reminder of the PPP slogan roti kaprra aur makaan, cultural events are being fervently celebrated in urban Sindh, and press announcements and speeches by the authorities tell a different story.
Rahmat Tunio is a Sindh-based multimedia journalist and can be reached @RehmatTunio
All information and facts are the sole responsibility of the writer


Source link