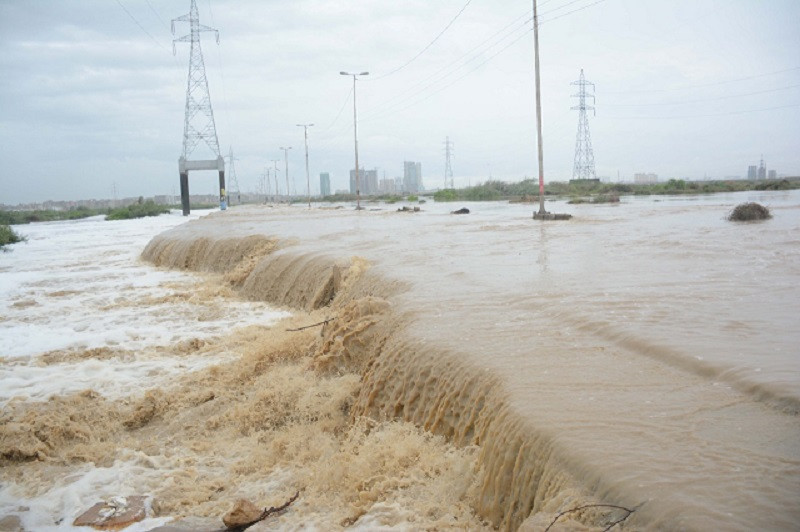 Flash floods unleashed by heavy rainfall continued to ravage through Balochistan on Wednesday, claiming 105 lives and leaving the districts of Lasbela, Jhal Magsi, Kech and Khuzdar devastated.
According to the Provincial Disaster Management Authority (PDMA), 34 children and 30 women are also among the dead.
Director-General PDMA Naseer Ahmed Nasar said the government has paid compensation to the heirs of 75 flood victims.
Meanwhile, a large number of people, including women and children, were stranded in flood waters in Lasbela district.
Radio Pakistan reported that Chief Minister Balochistan Mir Abdul Quddus Bizenjo has directed concerned officials to rescue people stranded in flood waters in the Urki area of district Lesbela.
In a statement, he also directed to utilize the provincial government's helicopter to evacuate people.
🚨 A heartbreaking video has surfaced in a local WhatsApp group of a farmer's family trapped in the middle of nowhere by heavy floods in Lasbela, looking for help at Oraki Village near the district headquarters in Uthal. #Lasbelafloods #Lasbela #Balochistan @ndmapk pic.twitter.com/HScCWpD4vE

— Qaisar Roonjha (@QRoonjha) July 26, 2022
"We have launched a rescue operation to evacuate the people", Mir Ziaullah Langove, the Balochistan Home Minister told The Express Tribune.
He said rescue workers of the PDMA have "rescued over 100 stranded people in the district and shifted them to safer places".
Videos shared on social media networks showed the entire Lasbela district flooded as people sought refuge at the top of their hut-like houses.
#Lasbela hundreds stranded in floods, so far no effective rescue operation to rescue people #Balochistan pic.twitter.com/rXEqI78poM
— Quetta Voice (@VoiceQuetta) July 27, 2022
"The government's helicopter is engaged in relief activities", the spokesman of Chief Minister's Secretariat told The Express Tribune. He added that the "CM has directed the concerned authorities to expedite efforts to overcome the situation and save human lives in the area". However, so far no senior official of the Balochistan government has visited the floods-affected areas.
Thousands in desperate need of support #floods … still no media coverage #Lasbela #JhalMagsi @annu_baloch12 @MahaBal64375358 @AQuddusBizenjo @iFarahAzeemShah pic.twitter.com/H4SMSylhtp
— Meer Emran Baloch (@EmranBaloch7) July 27, 2022
As the third spell of the monsoon rains lashed the province, flash floods demolished roads and bridges, including the one connecting Balochistan with Sindh on Monday.
The floods have also washed away various portions of the Quetta-Karachi highway. This has caused the suspension of traffic between the two cities.
"We will try to reopen the traffic after 24 hours," Commissioner Kalat Divison Dawood Khilji said as passengers and travellers remained among the worst-hit on the national highway.
Floods and torrential rains also damaged standing crops in Barkhan, Kohlu, Naseerabad, Pishin, Jaffarabad, and other parts of the province.
"Recent rains have inflicted huge financial losses on growers and farmers," Syed Abdul Qahar Agha, the central leader of Balochistan Zamindar Action Committee, claimed. He demanded of the provincial government to announce a special relief package for the farmers of the province.


Source link