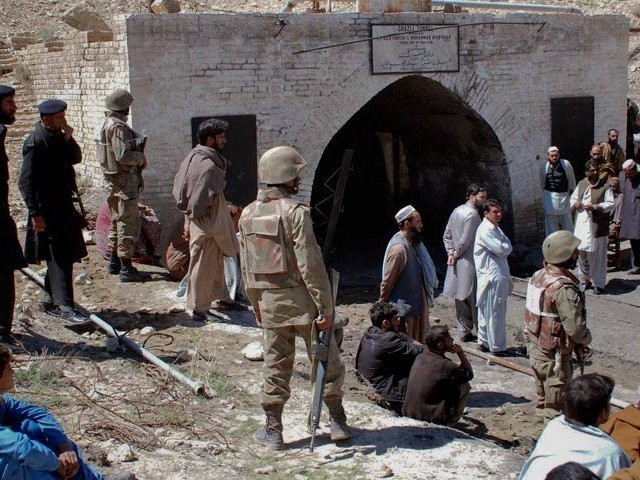 Five labourers working at a road construction site in the Harnai district of Balochistan were kidnapped by unidentified persons on Friday night.
Federal Minister for Communications and Postal Services Asad Mahmood on Saturday strongly condemned the terrorist attack on the construction site of Ziaratmor – Kach Harnai – Sanjavi road project.
An official told The Express Tribune that a contingent of Levies force was dispatched to the site on information of an attack there at night.
"When they [security personnel] reached the site, they were informed about the [terrorists'] raid on which a search operation was launched with the help of other security forces in the area," he said, adding that the private company was working on a road project.
During the search operation, two injured labourers – Hameedullah and Mussa Khan – were found lying on the ground some distance from the construction site. They were shifted to a hospital in Quetta, he said, adding that Hameedullah was in critical condition.
Before escaping, the attackers torched two trucks at the site.
"The contractor told us that there were a total of 19 labourers at the site, of which, 12 were found safe and alive, two others were found injured in the search operation while five had been kidnapped," he added. "Three of them were drivers – Muhibullah, Khalil and Latif, one bookkeeper – Fareed, and a watchman – Abdul Haq," he said, adding that an FIR was registered against unidentified persons and they were investigating the incident.
According to a statement issued by the Ministry of Communications and Postal Services, this is an important project of National Highway being completed in Balochistan.
He said that engineers, construction experts and other workers engaged in the construction process would be given full protection.
"We will not be intimidated by these terrorist attacks. The ongoing construction and development projects of Balochistan will be completed without any delay," the minister vowed.
According to details, last night in Balochistan, terrorists attacked the construction site of the project, and set fire to the machinery there. The number of terrorists is said to be 15 to 20.
As soon as the terrorist attack was reported, the National Highway Authority member Shahid Ehsanullah and the concerned team immediately contacted the Frontier Corps for help and their staff reached the spot and rescued the staff.
Expressing deep sorrow over the terrorist attack, the federal communications minister assured the contractor involved in the construction process that the missing persons would be traced as soon as possible while no effort would be spared to bring the terrorists to justice.
He said that these heinous acts of terrorists would not hinder the construction process at all and work on all construction projects in Balochistan would continue at a rapid pace.
With additional input from APP


Source link