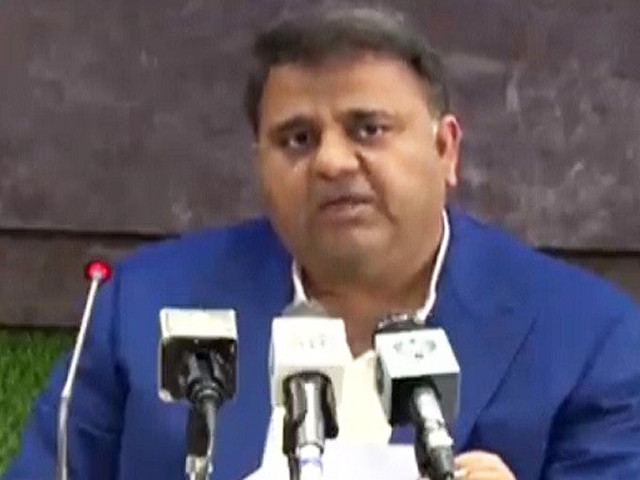 Pakistan Tehreek-e-Insaaf (PTI) leader and former information minister Fawad Chaudhry was the second party leader to have voiced his concerns on Wednesday against the relations between his party and the army, saying the "differences" could prove to have devastating effects for the country.
Fawad's tweet came shortly after a judicial magistrate granted police two days' physical remand of party leader Shahbaz Gill, after he was presented in front of a district and sessions court in Islamabad following his arrest yesterday.
As per the government, Gill had been arrested on charges of sedition and inciting the public against state institutions.
"Differences between the country's largest political party and the institution responsible for guaranteeing national security is disastrous for the country," said Fawad Chaudhry.
ملک کی سب سے بڑی سیاسی جماعت اور ملکی سلامتی کے ضامن ادارے کے درمیان تفریق ملک کیلئے تباہ کن ہے، پوری کوشش ہے غلط فہمیوں کا ازالہ ہو سیاسی جماعتوں کو بھی ایک دوسرے کیخلاف حد سے آگے نہیں جانا چاہیے حالیہ واقعات سے ملک میں جمہوریت کمزور ہوئ ہے اور انسانی حقوق پامال ہو رہے ہیں
— Ch Fawad Hussain (@fawadchaudhry) August 10, 2022
"We are trying our best to resolve the misunderstandings," the tweet read as he also appealed to the other political parties to "not go too far against each other".
Read Gill accuses ex-PM of taking 'bribes' from Indian company
"Due to recent events in the country, democracy has been weakened and human rights violated," added the former minister.
Earlier today, PTI secretary general and former planning minister Asad Umar had said that a narrative was being generated by the PTI opposition to create a rift between the party and the army.
Addressing a presser in Lahore, Asad Umar had maintained that a case had been made against the PTI to portray the party as a "threat".
Commenting on Shahbaz Gill's arrest, he had claimed that the PTI leader was taken by "force" and his arrest was "illegal" as it "misinterpreted the law".
'Hurtful comments'
Earlier, the army had strongly condemned what it called "hurtful and derogatory" comments made by a certain group of people following the helicopter crash in which six army officers, including Quetta Corps Commander Lt General Sarfraz Ali embraced martyrdom.
When the news of the army helicopter going missing came, certain people on social media had started making derogatory comments. Some of them went to the extent of wishing for the presence of top military leadership on the missing chopper.
Most of those making such comments had apparently been from a certain political party, which felt it was hard done by the country's security establishment.
Without naming any political party, the military's media wing had taken strong exception to the campaign on social media.


Source link