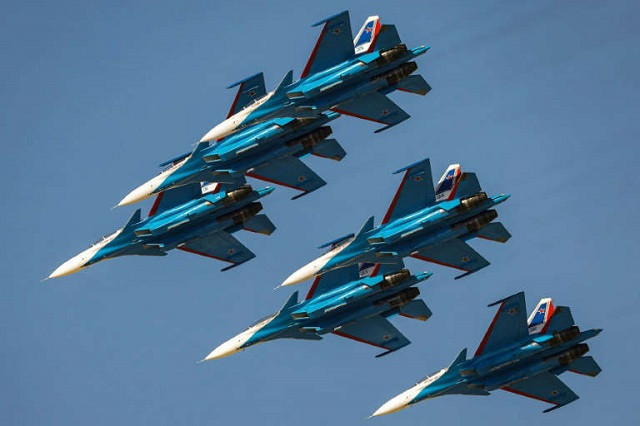 The military invasion of Ukraine by Russian forces has led to a raft of misleading images, videos and posts being widely shared on social media.
The Express Tribune debunks posts doing the rounds on social media from the ongoing conflict.
An image of a Russian plane being shot down is being circulated on various news websites and social media platforms. However, the image, which has so far received more than two thousand interactions on Twitter alone, is being shared with the caption "BREAKING!! Ukraine's Military Reportedly Shoots down Russian Fighter Jets". The same image has been shared with another caption on Facebook "Ukraine military says it has shot down six fighter jets and a helicopter belonging to Russia." The misleading image has also been shared Even news media websites have has shared this image of a fighter jet on fire crashing towards the ground.
The image was first shared on 24 February 2022.
Following are some of the platforms it has been circulating on:
A reverse image google search found that the picture is from 2015. The photo, which is available on the stock photography website Shutterstock, is from Samara, Russia, captured on August 22, 2015. The caption of the original image reads "Demonstration performances of flight group "Falcons of Russia" on Su-27. Airshow devoted to the celebration of the National Flag of the Russian Federation."
Another video circulating on social media, specifically Instagram, shows buildings catching fire after a sudden explosion. The captions reads "I ask that you keep Ukraine in prayers and I hope this doesn't last."
The video was shared on Instagram by a page named 'Historyphotographed', which has up to 4.4 million followers, on 24 February 2022.
It garnered more than 240,000 likes in less than a day.
The video is fake and was originally posted on the popular social media application 'TikTok' in January, a month before the invasion of Ukraine.
An image purportedly showing a TIME magazine cover went viral. The cover shows a photo of Russian president Vladimir Putin juxtaposed with a photo of Hitler, with the headline "The Return of History". The cover is dated to be the latest issue of the magazine 28 February/ March 7 2022'.
The original post was tweeted more than 3600 times and was liked by 13,400 netizens.
Below is the to the tweet:
However, Twitter users were quick to point out that the original cover of the latest issue of the magazine titled 'The Return of History' showed an image of a tank instead of the photo-shopped image of Putin framed in the viral cover. Images of the original cover were tweeted on the platform to point out the fake cover.
This was until the creator of the fake cover, Patrick Mulder, came forward and tweeted that he had created this cover for TIME magazine since he was unimpressed by the original and felt it lacked impact.
Here is what he tweeted after his artwork went viral:
Another image supposedly showing a wounded Ukrainian child, has also gone viral on Facebook. The image, showing a toddler with blood on her face, was posted with the caption "Keep praying for Ukraine. This is a child of God, Lord please cover your children with your shield. Praying for the world."
This image was posted on social media platforms on February 24, 2022.
The post has gathered more than 1,000 interactions in less than a week.
Attached below is the aforementioned image:
A reverse image search shows that this photo is from 2018 and the child is in fact from Syria. The photo was captured after bombing in Mesraba, a city in the Eastern Ghouta region of Syria.
The caption of the image reads "A young girl is treated at a hospital after a bombing in Mesraba, Eastern al-Ghouta, Syria, 03 January 2018. At least 19 people were killed in airstrikes on the cities of Erbeen and Mesraba by forces loyal to the Syrian government."
* This is a developing story and will be updated accordingly



Source link