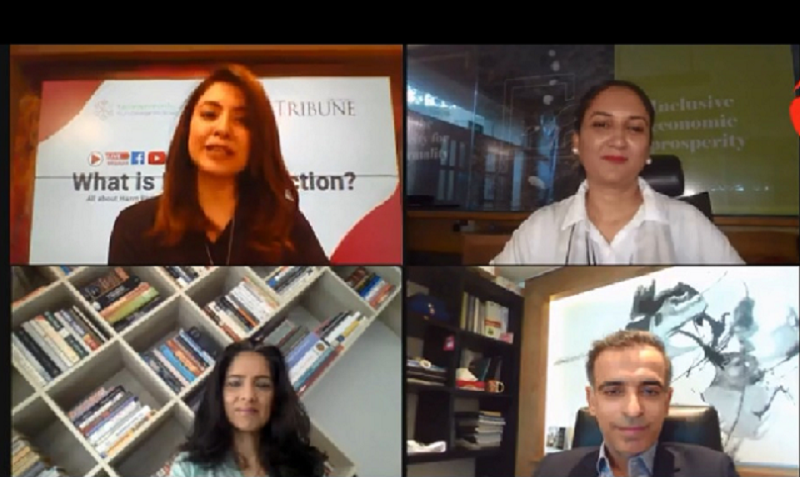 'Harm reduction' can be employed as a key strategy by people, organisations and governments when quick and complete mitigation of the dangers associated with specific behaviours or activities is not practical.
The Express Media Group and Entrepreneurship and Youth Development Society have come together to hold a series of webinars to raise awareness and increase knowledge on the subject and help people understand the severity of the issue.
The first webinar of the series was live-streamed on Facebook and YouTube channels of the Express Media Group. It was hosted by Sidra Iqbal and panellists included Dr Ayesha Mian, Medical Director, Laurel Bank Surgery, UK and Harm Reduction advocate; Shaista Ayesha, CEO and Director, Seed Ventures; and Favad Soomro, Head of Engro Foundation.
In the 35-minute-long discussion, Sidra touched on several aspects of the harm-causing elements that are around us – the recent example of which is catastrophic floods and climate change. "Although the idea of harm reduction is typically connected to drug use, if we pay serious attention, we will notice how widely it is used and how much it is a part of our daily lives."
"Harm reduction in action can be seen in everything from wearing seatbelts to putting on sunscreen," she added. "Fundamentally, harm reduction refers to approaching any issue with the intention of coming up with a solution that achieves the best results while causing the least amount of harm.
Answering Iqbal about how certain behaviours have changed over the past two decades such as the usage of plastic bags, Ayesha said that people have started having a very reactive approach and don't take responsibility for the harm caused by us even as an individual, society, community or at a system level.
Also read: Harm reduction project: AIDS control programme launched
Shedding some light on how businesses are shaped and how markets have changed over time and whether there is any pressure as to how harm is caused by businesses either knowingly or unknowingly to the surroundings, Soomro said that the evolution of businesses has been focused on the products keeping in view the environment and social responsibility and with time behaviours have changed by everyone and due to those businesses can't remain oblivious to the harm they cause.
Also, businesses have been under pressure from investors to consumers to be more responsible for the harm that the market has been causing.
Talking to Dr Mian, Iqbal brought in an aspect on an individual level as to how certain behaviours can harm the mental and physical health of people and why the paradigm has actually shifted.
Dr Mian added that humans are ignoring the fact that they will get affected directly. For example, as a community, we have really gone from living in communities to nuclear families, and perspectives have changed in the last 100 years and now people only worry until they don't get affected on a personal level.


Source link