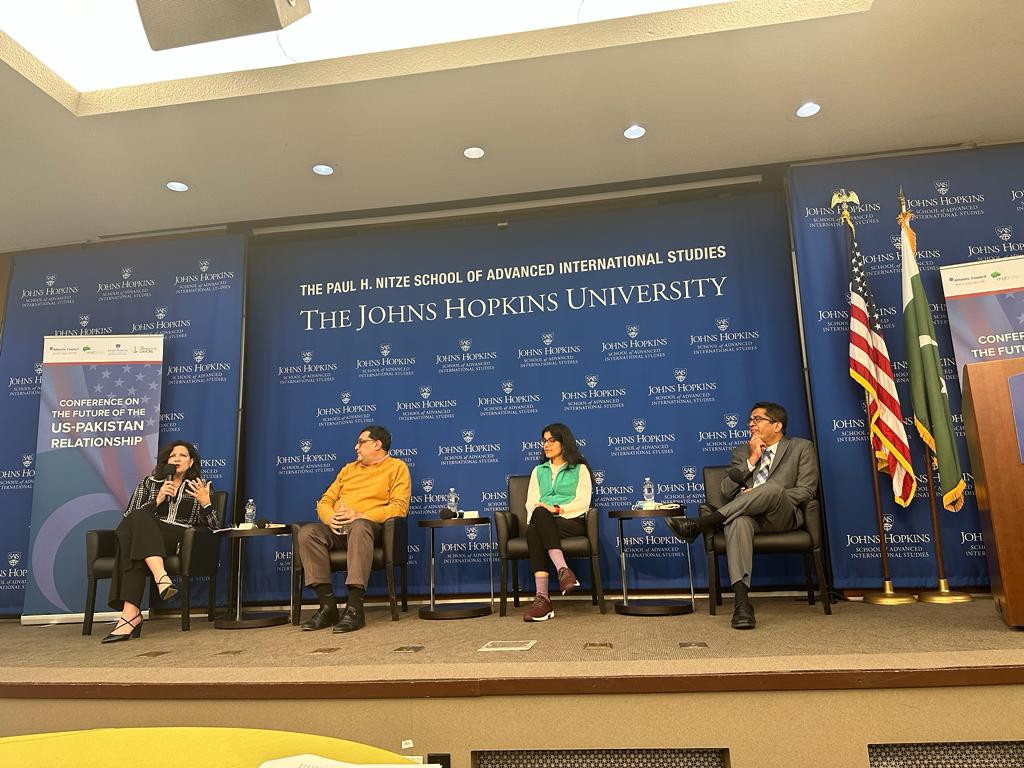 Experts and officials dealing with the relations between Pakistan and the United States expressed hope that their future is bright, arguing that ties between the two countries have been topsy-turvy, but contended that this low-key phase, post-Afghan war period allows both Islamabad and Washington to start afresh, de-hyphenate, and pluck low-hanging fruits, with a view to building cooperative mechanisms on issues of common concern like climate change.
They stressed the need for expending time and energising in bolstering cooperation in the fields of environment, economy, technology and agriculture.
They shared these thoughts at a two-day conference organised by the Centre for Security, Strategy and Policy Research (CSSPR), University of Lahore, The School of Advanced International Studies, Johns Hopkins University, South Asia Centre, Atlantic Council, and Engro Corporation.
The summit brought together Pakistani and American experts and officials to discuss a range of themes critical to the future of Pak-US relations.
The conference was opened by a welcome address delivered by CEO and President Atlantic Council Fred Kempe. Lamenting the negative titles associated with Pakistan-US relations, Kempe said that Pakistan is an enormous, resourceful, and important country, and therefore ties must be recalibrated and made even-handed.
Read more: Pak-US relations on path of 'holistic growth': Masood
The conference featured a keynote address by the Ambassador of Pakistan to the United States, Ambassador Masood Khan. In his address, he reminded the audience that, start-ups have increased exponentially in Pakistan, and, coupled with the tech boom the country is witnessing, the development could prove to be propitious for US investors.
He added that the presence of US business giants in Pakistan, the burgeoning Pakistani-American community in the US, and the increasing trade volume between the two countries add strength, depth, and breadth to their relations.
He talked about the devastation caused by the recent floods in Pakistan, adding that the country is looking to benefit from US technology and expertise in becoming more resilient to climate change.
At the end of his address, Ambassador Masood stressed that both countries must work towards promoting conflict resolution, conflict/crisis management, and strategic stability in the region.
Also read: Future of Pak-US ties
In his remarks, Special Representative for Commercial and Business Affairs, US Department of State Dilawar Syed, spoke to the impacts of floods in Pakistan. He said that dealing with them is the most compelling challenge for Pakistan. He also argued that this problem provides the US with an ideal opportunity to lend its succour to Pakistan, adding that most of what the US is giving will be spent on attenuating food insecurities caused by this raging, climate change-induced disaster.
The two sessions that followed the inaugural session were focused on discussing different perspectives, identifying areas of common concern, and shedding light on the opportunities provided by technology to the Pakistani economy.
The sessions were moderated by Non-Resident Senior Fellow, Atlantic Council Shamila Chaudhary and Director, Pakistan Initiative, Atlantic Council Uzair Younus.
The panellists included the Director, CSSPR, Dr Rabia Akhtar, Senior Adviser, South Asia, United States Institute of Peace, Daniel Markey, former Chief of Naval Staff, Pakistan Navy, Adm. Tahir Afzal, Director, China Programme, Stimson Centre, Yun Sun, former Chairman, Special Technology Zones Authority, Amer Hashmi, Co-founder and Managing Partner, Quona, Monica Brand Engel, CEO, EcoEnergy, Shazia Khan, and CEO, TRG International, Mohammed Khaishgi.
In the session entitled "Understanding Perspectives and Finding Commonalities in Theatres of Concern", Daniel Markey said when the word 'strategic' is used in the context of Pakistan-US relations, it includes things and aspects that are important to both countries.
He said that Pakistan's economic success is not only critical for that country but also for the US, not least because failure in the said domain has security implications.
Dr Rabia Akhtar said that Pakistan's foreign policy direction and priorities must not change, owing to changes at the helm in the capital. She added that Pakistan must focus on mitigating the deleterious effects of climate change, augmenting economic security, and ensuring regional peace and stability. On all these all-important objectives, she emphasised, convergence can be found with the US.
Yun Sun said that China is optimistic about the future of Sino-Pak relations. She further remarked China is open to not only rejigging its ties with Pakistan but also to seeing that country iron out differences with the US.
Reiterating that Pakistan-US relations have not been enduring, Adm. Tahir Afzal said they must never be one-sided going forward. He emphasised the need for taking into account Pakistan's perspectives and security woes.
In the last session of the day entitled 'New Economic Opportunities in the Technology Sector', panellists mapped the technology sector in Pakistan, the role US companies and investors are playing in that country, and the policy level bottlenecks that need to be navigated, with a view to producing better outcomes.
Speaking to the need for harnessing the technological boom that makes Pakistani markets exciting, panellists opined that the government must look to facilitate the private sector so as to allow it to experiment and produce impactful results.
Panellists stressed the need for investing in Fintech and focusing on reshaping perceptions and reducing instability, respectively, to reinvigorate mechanisms to conserve energy and raise capital for start-ups and free-lancing activities, respectively.
They also argued that the digitalisation of government ministries and departments is of the essence, not least because it is critical to changing governance for the better. He also said that Pakistan must commit to eliciting large-scale contracts by leveraging Special Technology Zones.
On the second day of the conference, former National Security Adviser of Pakistan Dr Moeed Yusuf said that Pakistan wants to enhance economic security, shift towards a two-pronged geoeconomic paradigm, and avoid camp politics.
He said that Pakistan aspires to become a melting pot for the economic interests of regional and global powers. He, therefore, suggested to centre Pakistan-US relations on identifying priority areas that both can collaborate on without both or one of them having to make hard choices.
In the session entitled 'The US-Pakistan Relationship in a Multipolar World: Opportunities and Headwinds', panellists in Dr Aneel Salman, Amb, Jorge Guajardo, and Tamanna Salikuddin shared their thoughts on Pakistan's economic security profile, the balancing act for that country between China and the West, and Washington's policy towards Islamabad, respectively.
They argued that both countries must reassess their strengths, capacities, and limitations, with a view to aligning asks with ground realities.
In the next session on 'Modernising Pakistan's Agriculture Sector through Greater Private-sector Investments' experts in Dr Abid Suleri, Ehsan Malik, Maaz Gardezi, and Hans Jansen spoke to the need for reforming the said sector in Pakistan through technology-led interventions.
They argued that US companies could be drawn into Pakistan, to revitalise agriculture, provided the government is geared to remove impediments through sound, timely, and impactful policy interventions.
In the last session, panellists in Dr Adil Najam, Erum Sattar, and Kathy Baughman Mcleod talked about the pressing challenge of climate change, stressing that it is a global phenomenon, one that cannot be tackled without building partnerships and coalitions.
The moot was able to bring together a host of experts from diverse fields, whose perspectives will go a long way in laying a platform from which broad-based Pakistan-US relations can be launched and solidified going forward. The organisers agreed to continue holding intellectual programmes like this.


Source link