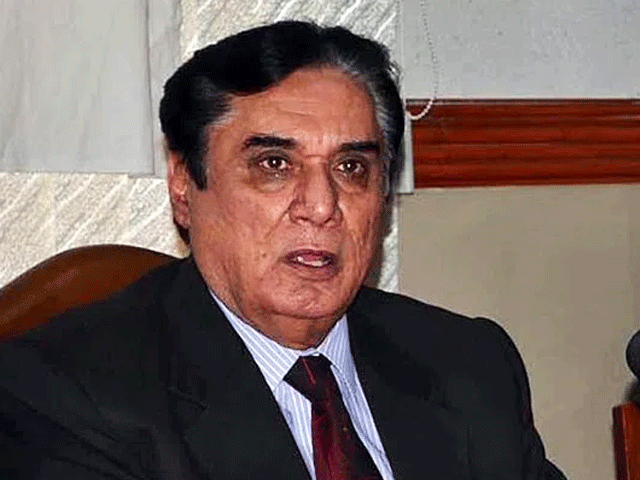 The Public Accounts Committee (PAC) of parliament on Wednesday decided to launch an investigation into the leaked video that allegedly showed former National Accountability Bureau (NAB) chairman Justice (retd) Javed Iqbal in clandestine meetings with a woman.
The PAC meeting, presided over by Noor Alam Khan, and also attended by Senator Talha Mehmood, Senator Saleem Mandviwalla, Shahida Akhtar Ali, Sheikh Rohail Asghar, Wajiha Qamar, Syed Hussain Tariq and others, also issued directions for the ban on new gas connections to be lifted immediately.
Petroleum Secretary Ali Raza Bhatta, PSO Managing Director Syed Taha and others attended the meeting as well.
The PAC chairman Noor directed to issue red warrants for three senior officers, including a former managing director of the PSI, who fled abroad after "defrauding" billions of rupees in the petroleum sector.
Noor noted that the government should appoint local officers to important companies so that they may not escape and usurp everything because of their foreign citizenship.
The meeting discussed the audit paras of the energy ministry and Petroleum Division for the year 2019-20.
Read more: Imran, ex-NAB chief should be behind bars: Marriyum
A letter was written by Tayyaba Gul demanding action against the former NAB chairman as well as the director general of the anti-graft body Saleem Shehzad, alleging that they had harassed her. The PAC chairman handed over the letter to the media. It was indicated that the ex-NAB chairman and Tayyaba might be summoned to the PAC.
Rohail Asghar noted that crude oil was imported from Saudi Arabia and the Saudi International Bank charged up to 5% interest for opening letters of credit (LCs).
Rohail also predicted that in the next four to five days, there will be a major oil crisis which was not being imported. The petroleum secretary ruled out the possibility of such a crisis occurring.
The issue of Rs56 billion contractual agreement that was not met on the supply of petrol and diesel by the PSO was also discussed in the meeting.
The PAC chairman sought details of high-ranking officials with dual citizenship.
He added that the record of these officials must be checked thoroughly and handed over to NAB.
Senator Shibli Faraz claimed that the previous PTI regime had initiated talks with Russia for the import of cheap oil.
The PAC chairman noted that it was a matter of great significance and if any documents were signed for the purpose they should be brought to the fore.
He also said wherever in the country gas pipelines had been laid, the residents should be provided with new connections.
The petroleum secretary replied that there was no money for searching new gas reserves and the circular debt had already hit Rs1.5 trillion.
On the issue of delay in setting up a gas processing facility, the Federal Investigation Agency told the body that Syed Wamiq Bokhari was the managing director of the Pakistan Petroleum Limited and now he had gone abroad.
The PAC chairman noted that someone who had caused damage to the national exchequer should be issued a red warrant. "An FIR should be registered against this person."


Source link