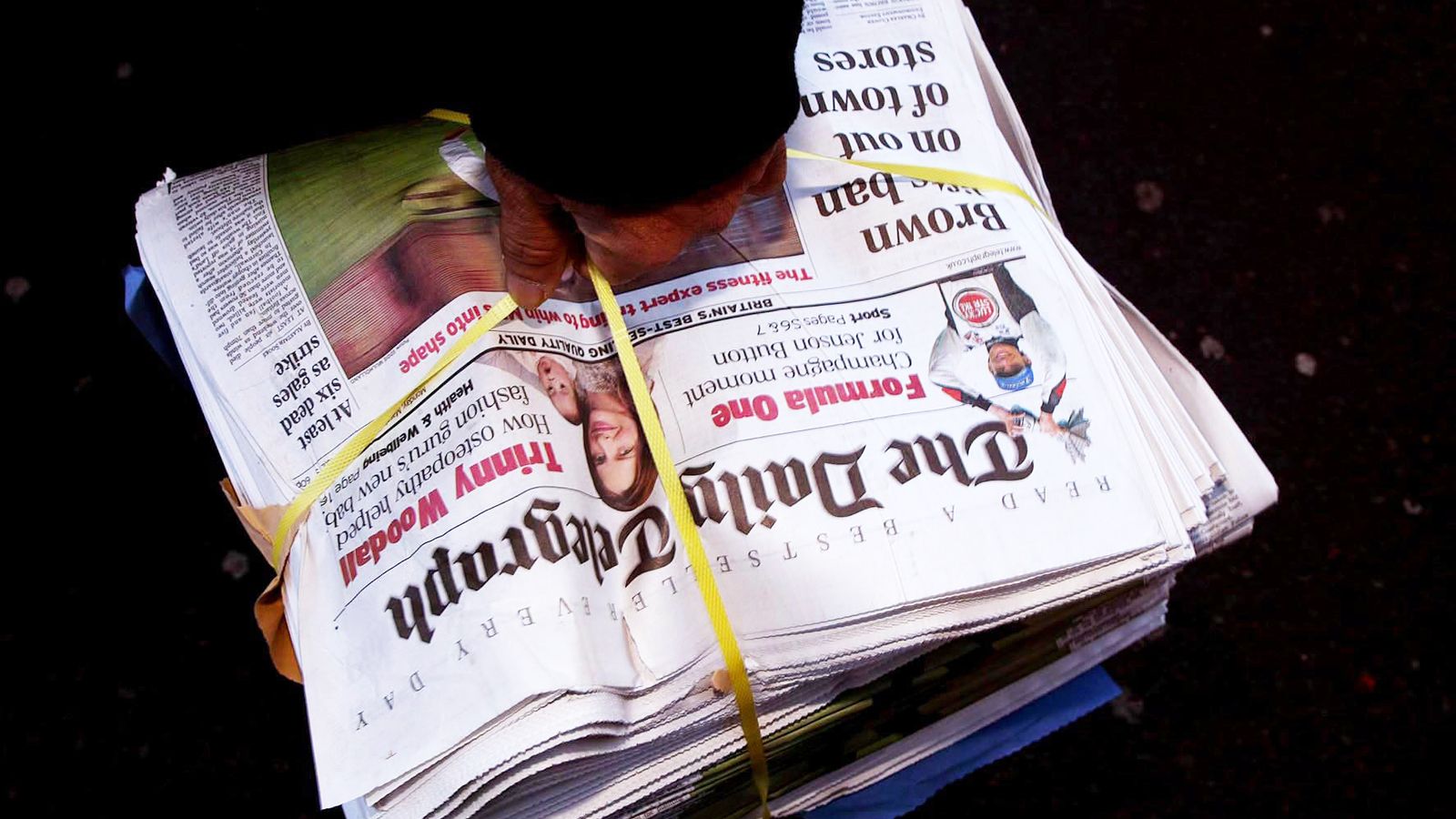 A vehicle run by Jeff Zucker, the former CNN chief, is backing the Barclay family's £1bn-plus bid to regain control of The Daily Telegraph.
Sky News can exclusively reveal that RedBird IMI, a media and sports investment fund, has agreed to back a new offer from the Barclays submitted to Lloyds Banking Group this week which proposed repaying a £1.15bn debt in full.
City sources said on Friday that the latest offer from the newspaper's long-standing owners would have to be seriously considered by Lloyds.
They added that the family was now proposing to finance its bid to repay the bank debt through a 50-50 participation from RedBird IMI and a member of the Abu Dhabi royal family.
Reports at the time that RedBird IMI was established under Mr Zucker's stewardship said that it would include funding from the Middle East.
Asked by the Financial Times in an interview this month whether he was interested in the Telegraph, Mr Zucker declined to comment.
His partnership with the Barclays has the potential to alter the dynamics of the Telegraph's journey to new ownership.
Mr Zucker is one of the world's most prominent media executives, having served as president of CNN for nine years before his departure last year.
His arrival at RedBird IMI sparked a frenzy of speculation about the news, media, sport and entertainment assets he might choose to invest in.
There have been repeated questions in recent weeks about whether bids for the influential and traditionally Conservative-supporting Telegraph newspapers financed by Gulf investors would trigger a government probe.
Danny Kruger, a backbench Conservative MP with links to another of the Telegraph bidders, the hedge fund tycoon Sir Paul Marshall, wrote to the culture secretary, Lucy Frazer, to urge her to issue a Public Interest Intervention Notice (PIIN) into the funding.
Describing the Telegraph titles as "a treasured national asset", he warned: "If material influence over, or control of, a quality national newspaper was passed to an unknown foreign ruler at any time it would raise concerns, but at a heightened time of geopolitical turmoil I believe it is more important than ever that this deal… is given proper scrutiny."
Lloyds, which forced the Telegraph and Spectator magazine's holding companies into receivership more than five months ago, has been engaged in a long-running stand-off with the family over its borrowings.
A court hearing in the British Virgin Islands is due to take place on Monday when Lloyds will try to force another company in the Telegraph structure into liquidation.
However, the family's offer to repay its debt to Lloyds in full may prompt a change in the bank's stance.
Although the auction of the Telegraph titles is unlikely to be halted while RedBird IMI conducts due diligence and Lloyds satisfies itself that the funding is in place, the bank would not reject a legitimate offer to repay the debt in full.
The Barclays have made a series of increased offers in recent months to head off an auction, raising its proposal last month to £1bn.
Lloyds, however, has repeatedly told the family and its advisers that they should either repay the debt in full or participate in the auction alongside other bidders.
Talks orchestrated by Goldman Sachs, the investment bank, have now kicked off with prospective buyers, including Sir Paul Marshall, the hedge fund billionaire and GB News shareholder.
Other potential bidders include Lord Rothermere, the Daily Mail proprietor, who has curtailed talks with Middle Eastern investors, according to the FT, and the London-listed media group National World.
The new board of the Telegraph holding company has established an incentive plan to keep key employees motivated during the sale process, with collective financial rewards totalling millions of pounds, Sky News revealed recently.
Lloyds' decision to press ahead with an auction – which is expected to generate bids of around £600m – has frustrated the Barclays.
Until June, the newspapers were chaired by Aidan Barclay – the nephew of Sir Frederick Barclay, the octogenarian who along with his late twin Sir David engineered the takeover of the Telegraph 19 years ago.
Lloyds had been locked in talks with the Barclays for years about refinancing loans made to them by HBOS prior to that bank's rescue during the 2008 banking crisis.
Read more from Sky News:
Why electricity pylons in Essex are the front line in the battle to hit net zero
Benefit claimants to be tracked at job fairs and interviews
Retail sales at lowest level since 2021 COVID lockdown
The family's debt to Lloyds also includes some funding tied to Very Group, the Barclay-owned online shopping business.
Ken Costa, the veteran City banker who advised the Barclay brothers on their purchase of the Telegraph in 2004 and counts the sale of Harrods to Qatar Holding among his other flagship deals, is acting as a strategic adviser to the family.
The Telegraph and Spectator disposals are being overseen by a new crop of directors led by Mike McTighe, the boardroom veteran who chairs Openreach and IG Group, the financial trading firm.
Mr McTighe has been appointed chairman of Press Acquisitions and May Corporation, the respective parent companies of TMG and The Spectator (1828), which publish the media titles.
In July, Telegraph Media Group (TMG) published full-year results showing pre-tax profits had risen by a third to about £39m in 2022.
A successful digital subscriptions strategy and "continued strong cost management" were cited as reasons for the company's earnings growth.
"Our vision is to reach more paying readers than at any other time in our history, and we are firmly on track to achieve our 1 million subscriptions target in 2023 ahead of our year-end target," said Nick Hugh, TMG chief executive..
Both Lloyds and a spokesman for the Barclay family declined to comment.