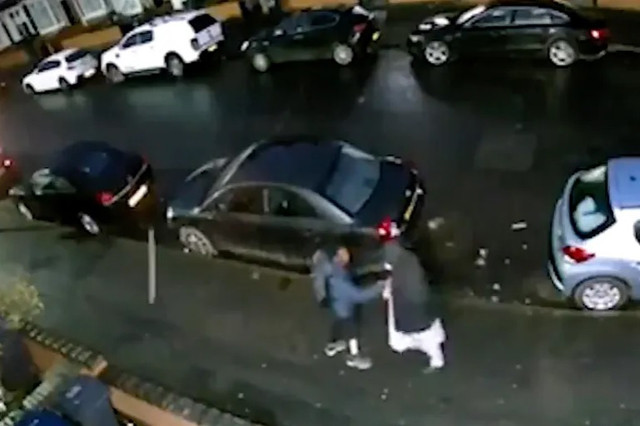 The UK police have arrested a man in the midlands after an elderly Muslim man was attacked while walking home from his local mosque, Al Jazeera reported on Wednesday.
Video of the incident was shared widely on social media.
UK police are searching for a suspect who set a Muslim man on fire as he walked home from a mosque in Birmingham.
Police said the man suffered serious but non-life-threatening burns to his face ⤵️ pic.twitter.com/s2qzepASAQ
— Al Jazeera English (@AJEnglish) March 21, 2023
In the widely surfaced video, a younger man is seen embroiling in an argument with the elderly victim, who is in his 70s. Later, the victim's jacket is seen set alight as he cries in pain.
Soon after the incident, the victim was taken to hospital with serious injuries but he is expected to survive.
"He spoke to [the victim] briefly before spraying with an unknown substance and then his jacket was set alight, causing burns to his face," West Midlands Police said in a statement.
Tayyab Riaz, the victim's nephew, told the BBC: "For 35 years he's been going to that mosque to pray and there's never been a problem… Suddenly this happens. His hair, beard and eyebrows are badly burnt. We're praying he's OK."
Also read: London police force racist, misogynist, and homophobic: review
Chief Superintendent Richard North, commander at Birmingham police, said investigators were "keeping an open mind to the motive of the attacker" as he warned against speculation.
Zarah Sultana, an MP with the opposition Labour Party, said she was "horrified".
Amir Khan, a doctor and author, tweeted: "This makes me feel sick, an elderly man set on fire as he walked home from his place of worship… I'm lost for words."
Earlier on February 27, a man approached an 82-year-old as they both left the West London Islamic Centre in Ealing.
They spoke for about five minutes then the suspect doused the victim in a liquid, believed to be petrol, before setting him alight using a lighter, London's Metropolitan Police said.
"He then walked away," the Met Police said, as the force launched an appeal to find the suspect and published a photo of him on its website.
"The two recent deeply troubling incidents where two elderly Muslims have been set on fire as they left mosques are shocking," Iman Atta, head of Tell Mama, a hate crime monitor, stated.
"We ask all communities to remain alert and vigilant whether at a mosque or in a public area. This is especially the case because Ramadan is just around the corner and the safety and security of our communities remains a key priority."
#BREAKING | A man has now been arrested on suspicion of attempted murder.
Follow the link below for the full story. https://t.co/vKH7Ondq4R
— West Midlands Police (@WMPolice) March 21, 2023