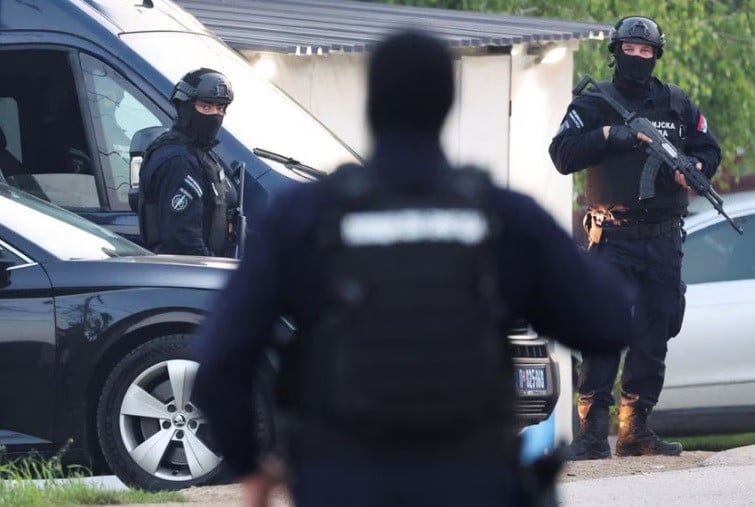 A gunman was on the loose on Friday after killing eight people and wounding 13 others near Belgrade, local media reported, the second deadly mass shooting around the Serbian capital in two days.
Heavily armed police set up roadblocks near the town of Mladenovac, 42 km (26 miles) south of Belgrade, and were searching for a 21-year-old suspect.
The shooting comes less than 48 hours after a 13-year old boy shot dead nine and injured seven at a school in Belgrade before turning himself in.
Interior Ministry officials could not immediately be reached for comment.
According to local media, the suspect was involved in a altercation in a school yard late on Thursday and left but returned with an assault rifle and a handgun. He opened fire and continued to shoot at people at random through three villages from a moving car.
State broadcaster RTS reported an off-duty policeman and his sister were among those killed.
Around 600 Serbian police, including elite Special Antiterrorist Unit (SAJ) and Gendarmerie launched a manhunt, dubbed Operation Whirlwind, RTS reported.
Inside the village of Dubona near Mladenovac, a Reuters witness saw heavily armed police establishing a checkpoint and searching incoming traffic. Armoured police SUVs and black vans circled the area.
"This is sad, the young policeman is my daughter's age, born in 1998," said Danijela, a middle-aged woman in Dubona. "My daughter is taking sedatives, we could not sleep all night, they grew up together."
The wounded had been transported to several local hospitals, Belgrade's Pink TV reported.
A helicopter, drones and multiple police patrols were searching for the suspect among the rolling hills around Dubona and nearby villages, scouring abandoned houses and wooded areas.
"This is terrible for our state, this is a huge defeat. In two days so many … killed," said Ivan, a Dubona resident.
Nation in mourning
The Balkan nation begins three days of official mourning on Friday following its first mass school shooting on Wednesday.
The suspected shooter took two of his father's handguns to kill eight pupils and a security guard in a hallway and history class at their school in the capital Belgrade.
Hundreds of school children with candles and flowers gathered for a vigil on Thursday evening in streets around the school, while churches planned memorial prayers.
Dozens of high school teachers rallied in front of the Education Ministry in downtown Belgrade on Thursday, demanding improvements to school security and the education system.
Serbia has an entrenched gun culture, especially in rural areas, but also strict gun control laws. Automatic weapons are illegal and over the years authorities have offered several amnesties to those who surrender them.
After the school shooting in Belgrade, the Serbian government introduced a two-year ban on the issuing of new gun permits, a revision of existing permits and checks on how gun owners store their arms.
Still, the country, and the rest of Western Balkans, are awash with military-grade weapons and ordnance that remained in private hands after the wars of the 1990s.


Source link