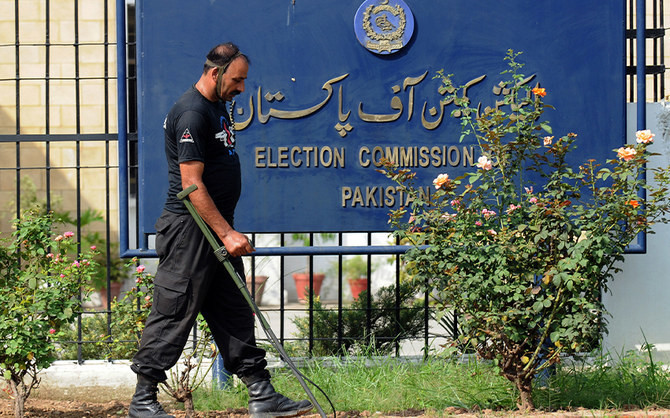 The Election Commission of Pakistan on Friday directed the Pakistan Tehreek-e-Insaf (PTI) to submit a signed reply and affidavit regarding the disqualification references against its dissident Punjab Assembly members.
A bench headed by the Chief Election Commissioner Sikandar Sultan Raja heard the case.
At the start of the hearing, CEC Raja inquired whether a signed copy of the affidavit and reply had been submitted.
The Election Commission was assured that PTI Chairman and former prime minister Imran Khan's affidavit would soon be submitted.
Earlier, the PTI lawyers continued their arguments. PTI lawyer Faisal Chaudhry took a stand that Pakistan Muslim League-Quaid leader Pervaiz Elahi was nominated as a candidate for the chief minister's slot in the parliamentary party meeting held on April 1.
Faisal presented the minutes of the parliamentary party meeting in the commission. "The election of the chief minister was supposed to be held on April 3, but it was postponed," he added.
Also read: ECP seeks PEMRA's record of Imran's speech against CEC
meeting of the parliamentary party, chaired by Imran Khan, was also held on April 5 at the Punjab Governor House. "Dissident members did not refuse to vote in response," he added. "A fake election [for the post of the Punjab chief minister] was held at a private hotel in Lahore in which all the dissident members participated." According to Faisal, a show cause notice was issued to them on April 7.
On April 6, the then opposition lawmakers, led by the PML-N, held a session of their own at a private hotel with Vice President Maryam Nawaz claiming that Hamza Shehbaz had been elected as the Punjab chief minister, as the Punjab Assembly was sealed off with barbed wires and the building's main gate was locked.
The legality of the session and Hamza's subsequent victory was unclear as the session was held outside the Punjab Assembly and neither Speaker Pervaiz Elahi nor Deputy Speaker Sardar Dost Muhammad Mazari presided over it.
During the hearing, Advocate Faisal said, "Dissident [PTI] members deliberately harmed the party. Such treachery is not allowed in the Holy Quran and Sunnah. Those who violate the Constitution do not deserve any leniency."
Barrister Ali Zafar said, "The Election Commission should see if what has happened outside parliament is a deviation or not.
"The public looks up to the authority. Don't let this case get you into technical trouble. History will always remember the commission. History has given an opportunity."
Barrister Zafar said, "Go for re-election if people re-elect you."
Further hearing was adjourned until 11:30am on Monday.