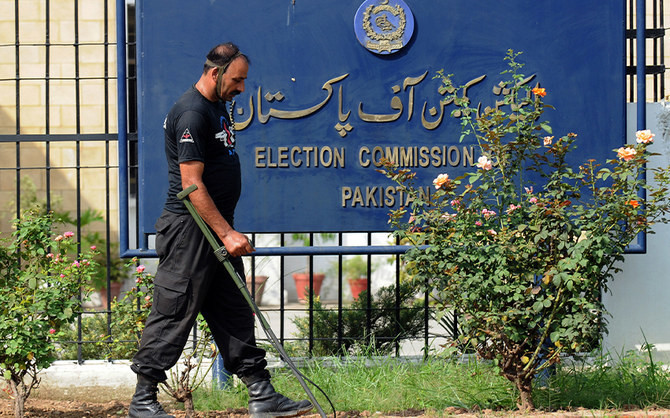 [ad_1]
The Election Commission of Pakistan (ECP) on Friday rejected the Sindh government's request to postpone local body polls in Karachi, Hyderabad and Dadu, and is mulling taking strict action against the Pakistan Peoples Party (PPP)-led provincial government.
During a meeting of the electoral watchdog held today under the chairmanship of the Chief Election Commissioner (CEC) Sikander Sultan Raja, the ECP rejected the request of the Sindh government to postpone local body elections due to legal and constitutional requirements.
In a late-night development, the ruling PPP had requested to postpone the elections in the Karachi division, Hyderabad and two tehsils of the Dadu district, Khairpur Nathan and Meher.
Read Elahi acts to dissolve Punjab Assembly
The ECP, however, mandated that the polls will be held on January 15 as per the schedule and issued an order to the Interior Ministry.
The commission also maintained that deployment of army and rangers personnel should be ensured at highly sensitive polling stations in the province.
Moreover, the ECP expressed anger and considered taking strict action against the Sindh government's announcement to postpone the LB elections.
The meeting stated that neither the federal nor provincial governments want to hold any local elections. The ECP added that all the debris of the amendment of the Islamabad Local Government Act fell on the commission.
It furthered that all arrangements for the local body elections in Sindh were completed two days ago at the exact time that the ruling PPP announced the delay.
The meeting also discussed the situation following the Punjab chief minister's request for the dissolution of the provincial assembly with senior officers in attendance.
Sindh delays LG polls again
Following a late-night huddle of the Sindh cabinet, the PPP-led provincial government announced the postponement of local body (LB) polls in Karachi and Hyderabad and revoked the notification regarding new constituencies.
Speaking to journalists in the early hours of Friday in Karachi, Sindh Information Minister Sharjeel Inam Memon jad said that the local government polls in the remaining districts of Sindh will be held as per schedule on Jan 15.
Read More LG polls: trans, special people in the run
The minister had furthered that the decision has been taken after the Sindh cabinet meeting and was not taken on the "protest and threat of anyone", however, he added that the Muttahida Qaumi Movement-Pakistan (MQM-P) did have reservations about delimitations.
Following the announcement, Jamaat-e-Islami (JI) Karachi has said it would stage a sit-in outside the ECP today at 3 pm, while the Pakistan Tehreek-e-Insaf (PTI) has announced holding a protest at 4pm.
احتجاج! احتجاج! احتجاج!
پی ٹی آئی کراچی کی جانب سے بلدیاتی انتخابات کو ایک بار پھر ملتوی کروانے کی سازش کے خلاف احتجاج
وقت: 4 بجے
بمقام: سندھ اسمبلی#کراچی_کپتان_کا#با_اختیار_کراچی pic.twitter.com/vodBNM65H1
— PTI (@PTIofficial) January 13, 2023


[ad_2]
Source link