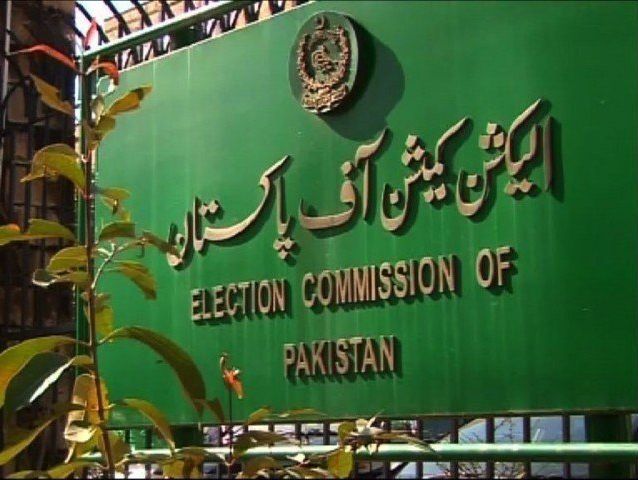 [ad_1]
The Election Commission of Pakistan (ECP) has prepared amendments to tighten the rules in connection with the code of conduct for the polls.
According to the documents, violation of the election code of conduct and non-payment of fines will result in confiscation of properties.
The commission has proposed important changes in the Election Rules.
According to the proposal, those who violate the code may be arrested for non-payment of fine and their properties be auctioned off.
The violators of the code will be taken into custody for 10 days without being sent to jail.
If they still do not pay the fine within 10 days, they will be sent to jail for a month, according to the proposed rule.
If the fine is not paid despite being sent to jail, their immovable properties can be seized and auctioned off.
The proposed rule states that non-payment of fines will attract penalties under the Land Revenue Act, 1967.
The district returning officer will be able to impose penalties under Section 80 of the Act.
The ECP had recently amended the electoral rules – making it mandatory for every polling agent to be a voter of the respective constituency of any assembly where an election was taking place on a general seat.
For this purpose, the electoral body had notified the insertion of an additional provision in Rule 58 of the Election Rules, 2017.
This rule stated: "The number of polling agents appointed at a polling station by each contesting candidate under Section 77 shall not exceed the number of booths set up at that polling station."
The new provision inserted by the ECP, after the existing one, read: "Provided that the polling agent or agents so appointed under Section 77 shall be the voter of the constituency."
Section 77 (1) of the Elections Act provides that "the contesting candidate or their election agent may, before the commencement of or during the poll, appoint for each polling station as many polling agents as may be prescribed and shall give notice in writing to the presiding officer communicating the appointment".
Section 239 of the Elections Act 239 empowers the ECP to make rules.
It read: " (1) The commission may, by notification in the official gazette and publication on the website of the commission, make rules for carrying out the purposes of this act. (2) The commission shall make the rules under Subsection (1) subject to prior publication and after hearing and deciding objections or suggestions filed within fifteen days of the publication."
The commission also amended the affidavit that was required to be submitted by the candidates of the assemblies or Senate elections.
The amendment made to part D of the affidavit makes it mandatory for candidates to provide the details of their spouses and dependent children.
These details include their names, dates of birth, computerised national identity card numbers, and relation with the candidate.

[ad_2]
Source link