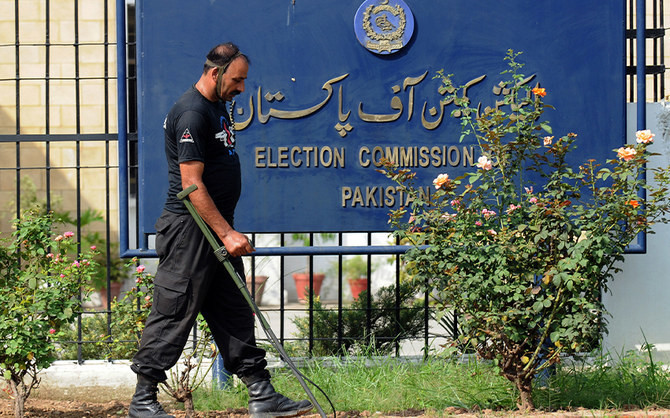 Chief Election Commissioner (CEC) Sikandar Sultan Raja on Wednesday directed the Election Commission of Pakistan (ECP) staff to list the foreign finding case against the PTI as "prohibited funding" from now onwards after accepting the party's stance on the matter.
As the proceedings started, PTI's counsel Anwar Mansoor Khan maintained that the ECP's cause list still referred to the case as foreign funding instead of "prohibited funding".
"My stance since day one is that this is a case of prohibited funding and not foreign funding," Khan said.
The CEC noted that Khan's stance was "correct" and directed the ECP staff not to list the case as foreign funding.
Continuing his arguments, the PTI's counsel argued that Political Parties Order 2002 and not Elections Act 2017 would apply on the prohibited funding case.
According to PPO, money received from foreign governments and multinational and local companies would be considered foreign funding, he said.
Under Election Act 2017, receiving money other than Pakistani citizens was prohibited, he added. "The 2002 law applies to all cases till 2017."
Khan said even foreign citizens residing in India could not give donations to a political party. He said holding dual nationality in India was not allowed but a law existed in Pakistan in this regard.
The federal government and not the election commission can take action against a foreign-funded party, he maintained, adding that all sources of funding were not only shown to the scrutiny committee but proven as well.
Petitioner Akbar S Babar's lawyer said that he would submit a reply within two to three days.
The PTI's counsel completed his arguments and the hearing of the case was adjourned till June 20.
The case, filed by Akbar S Babar, who is a dissident but founding member of the PTI, has been pending since November 14, 2014.
Babar had alleged serious financial irregularities in the party's funding from Pakistan and abroad.
Speaking to the media after the hearing, Babar said that PTI chairman Imran Khan spoke against the media because he wanted to seek an "escape" from the case.


Source link