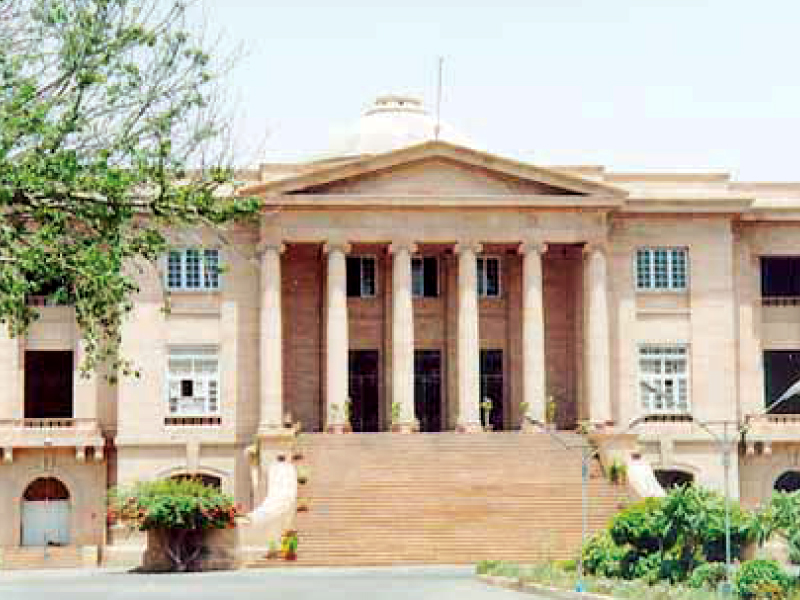 The Sindh High Court (SHC) on Tuesday issued notices to the Home Department, IG Sindh, SSP Sharqi, SHO Al-Falah Police Station and Dua Zehra's husband Zaheer Ahmed on her father's appeal regarding the teenager's alleged abduction and early marriage.
A two-member bench headed by Justice Muhammad Iqbal Kalhoro heard the plea earlier today. In the petition, Dua Zehra's father had stated that his daughter had been abducted.
"My daughter was forcibly married. She should be brought to court to find out the facts," the petition read. He pleaded that the court should record Dua's statement and that police officials should be directed to bring her to court.
The petitioner had also asked the court to provide protection to the family and that the marriage of Dua Zehra and Zaheer be declared illegal.
During the hearing today, the petitioner's lawyer told the court that the parents wanted to meet Dua and that a kidnapping case has been registered against Zaheer Ahmed.
Read: Dua Zehra's family approaches court
Justice Kalhoro remarked that the problem with the case was that the girl has herself given a statement in court. To which, Justice Agha Faisal inquired why they were not presenting the statement and record of the girl.
In the statement, the teenage girl had denied that she had been kidnapped and said she had married of her own will on April 17. She had also maintained that her life was in danger if she returned to Karachi.
Petitioner's counsel told the court that the parents were getting information on Dua from social media. "We don't know anything about Dua Zehra. The investigating officer only left for Lahore a day before yesterday [Sunday]," he said.
The lawyer maintained that the petitioner had come to know through social media that Zaheer Ahmed had married Dua Zehra in Lahore. According to her registered date of birth, Dua was 14 years old at the time of marriage.
Underage marriage is an offense under the Child Marriage Restriction Act 2013.
Subsequently, the court issued notices to Sindh Home Department, IG Sindh, SSP Sharqi, SHO Al-Falah Police Station and Zaheer Ahmed seeking a response by May 19.
On Sunday, the investigating officer in the case had filed an interim challan in the court in which provisions for underage marriage abetment had been included whereby Zaheer Ahmed, the alleged prime suspect, Nikahkhwa Ghulam Mustafa and Nikah witnesses Shehzad and Asghar Ali have been declared absconders in the case.
The provisions of the Sindh Child Marriages Restraint Act have also been included in the case.
The investigating officer had asked for a period of 15 days for the presentation of the final challan of the case on Sunday.
He said Dua Zehra has to undergo a DNA and medical examination. The plaintiff's lawyer added that the court had given the police eight days to submit the final challan.


Source link