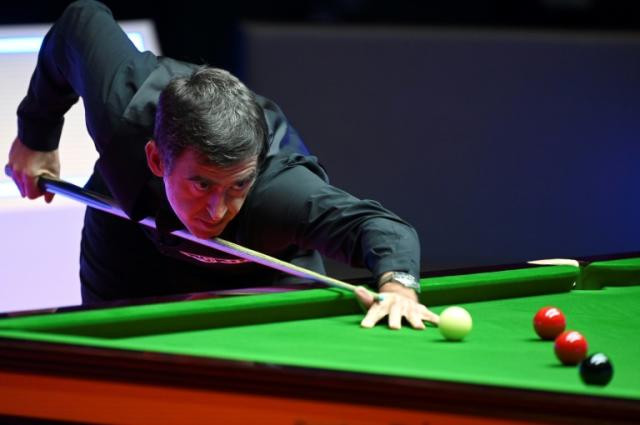 Ronnie O'Sullivan was knocked out of the world snooker championship on Wednesday by Luca Brecel, who said he had been "drunk as hell" after beating Mark Williams to set up a quarter-final with the seven-time winner.
Reigning champion O'Sullivan resumed 10-6 ahead only to lose seven frames in a row as Belgium's Brecel, ranked 10th in the world, recorded a 13-10 victory at Sheffield's Crucible Theatre.
"Before the tournament I was out partying and staying up late until 6 or 7am, playing FIFA with my friends, having drinks and not practising," Brecel, 28, told the BBC.
"Even after I beat Mark Williams I got home at 7am by car, and that same day we went out again until five or six in the morning," he added.
"I was drunk as hell. The next day I had to drive back up again, so it's a totally different preparation."
The 47-year-old O'Sullivan, bidding to win a modern-day record eighth world title, failed to make a single break over 30 in the final session as Brecel rallied to set up a last-four clash with Chinese debutant Si Jiahui who edged Scotland's Anthony McGill 13-12.
O'Sullivan said Brecel had played an "unbelievable" match, with the Englishman adding: "His cue action, he gets through the ball so well. It's incredible.
"The whip he gets on the white, the top spin, the thud he hits the ball with.
"He's such a dynamic player, probably the most talented snooker player I've ever seen.
"I'd love to see him go and win it because that's how snooker should be played. He's a phenomenal talent and player."
Few might have given much for Brecel's chances of overturning a four-frame deficit, but the winner of two major ranking tournaments insisted he'd always had confidence in his ability.
"It was a great feeling to play like that. I know that if the balls go well for me I can easily win seven frames in a row even against Ronnie, so I am not surprised," Brecel said.
Brecel capitalised on O'Sullivan missing a black off its spot with a clearance of 112 before another error by 'The Rocket' in the next frame was punished with a break of 64.


Source link