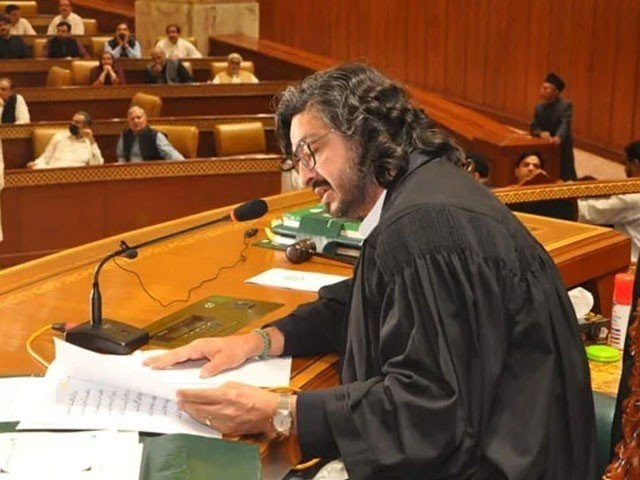 Former deputy speaker of the Punjab Assembly Dost Muhammad Mazari was sent on a two-day physical remand on Sunday by a local court of Lahore in the case of embezzling government land.
Mazari was presented before the duty magistrate in District Kachhari by the Anti-Corruption Establishment (ACE) of Punjab.
Once the arguments from the counsel were completed, the court reserved its decision on the request to remand Mazari.
The physical remand of the former deputy speaker was sought by the ACE lawyer, who said the allegation of land grabbing placed on Mazari needed a thorough probe, for which a physical remand was required.
Read LHC summons deputy speaker Mazari on appeal against CJ's order
However, the defendant's counsel gave arguments opposing the remand.
Subsequently, the court approved a two-day physical remand of Mazari and directed that he be presented again on November 1, following the completion of the remand.
While speaking to the media, Mazari described his arrest as a "political act of revenge".
He added that in spite of how the situation turns out, he will stand by the Constitution throughout the legal proceedings.
The arrest
A day earlier, the ACE of Punjab arrested Mazari on charges of embezzling government land.
Reportedly, the provincial lawmaker's arrested was confirmed by his cousin Shahab Mazari, who said that he was arrested while he was visiting his grandfather at the hospital.
According to the Express News, ACE had summoned Mazari on October 11 on the same charges, but he had failed to appear before it.
For his failure to comply with the summons, the department had decided to file a case against him. Besides Dost Muhammad Mazari, Sher Muhammad Mazari and Moazzam Mazari were also summoned.
According to the report of Rujhan's assistant commissioner, thousands of acres of land were embezzled by Mazari.


Source link