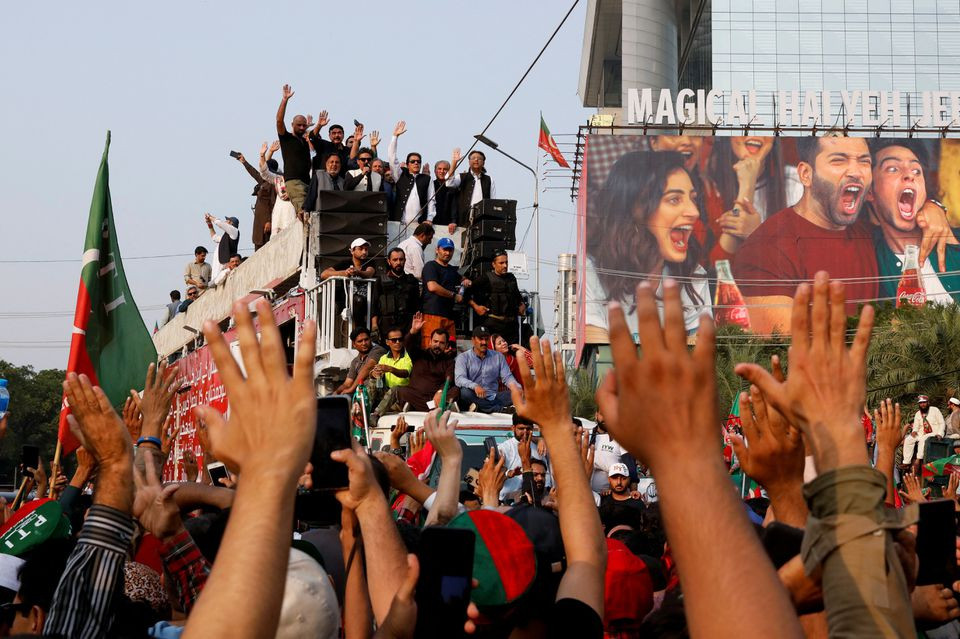 The Pakistan Tehreek-e-Insaf (PTI) changed its plans again for the long march on Wednesday, splitting the 'Haqeeqi Azadi March' in two.
The first procession will continue from Wazirabad – where party chief Imran Khan was attacked – and will be led by PTI Vice Chairperson Shah Mehmood Qureshi.
The second rally will depart from Toba Tek Singh a day later, on November 11 (Friday), with the party's secretary general Asad Umar leading it. It will travel from Toba Tek Singh to Jhang and then to Faisalabad.
The two groups are to converge before entering Chakwal.
Earlier in the day, PTI leader Fawad Chaudhry had said that there will be no extension in the march's arrival date to Rawalpindi.
The former minister stated that leaders from the Gujranwala and Lahore division will hold a meeting regarding the long march. This will be followed by a meeting of senior PTI leadership.
تحریک انصاف کا حقیقی آزادی مارچ کل سے دوبارہ شروع ہو گا، اس سلسلے میں آج گوجرانوالہ آور لاہور ڈویژن کے ذمہ داران کی میٹنگ ہو گی جس کے بعدسینئر لیڈرشپ کااجلاس ہو گا،راولپنڈی پہنچنے کی تاریخ میں اب کوئ توسیع نہی انشاللہ عمران خان تیسرے ہفتے میں لاکھوں لوگوں کے ساتھ راولپنڈی ہوں گے
— Ch Fawad Hussain (@fawadchaudhry) November 9, 2022
Fawad furthered that during the third week of the march PTI chief Imran Khan will be present in Rawalpindi with "hundreds of thousands" of supporters. He maintained that there will be no further extension in the march reaching Rawalpindi.
Read Imran wants FIR as per his demand, says interior minister
The PTI on Monday changed the schedule of its disrupted long march for the third time, announcing that the party will continue with its strides towards Islamabad on Thursday (tomorrow) from Wazirabad – exactly from the point Imran Khan survived a gun attack last week.
The change came a day after Imran announced that PTI will be returning to the streets on Tuesday to pick up its long march where it left off after an attempt on his life and the subsequent hospitalisation.
However, in an abrupt change made earlier on Monday, Imran announced that the march dubbed as the 'Haqeeqi Azadi March' will resume on Wednesday. Hours after his announcement, PTI leader Faisal Javed in a tweet announced that the party's long march will begin on Thursday at 2pm.


Source link