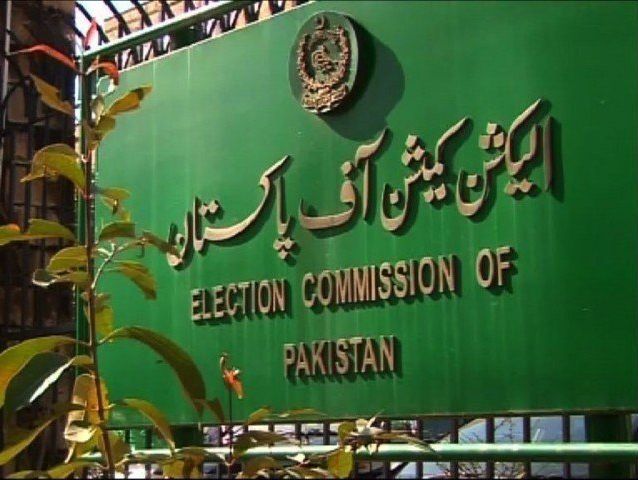 Dissident members of the Pakistan Tehreek-e-Insaf (PTI) have submitted a written reply to the Election Commission of Pakistan (ECP) regarding the references of their disqualification from the National Assembly after they failed to follow party directives.
The commission held a hearing earlier today on the disqualification references of dissident members of the national and provincial assemblies.
Farrukh Altaf, Asim Nazir, Afzal Khan Dhandla, Nawab Sher Wasir, Raja Riaz, Noor Alam Khan, Ahmad Hussain Dheer, Rana Qasim Noon, Ghaffar Wattoo, Makhdoom Samiul Hassan Gilani, Mubeen Ahmed, Basit Sultan, Amir Gopang, Ajmal Farooq Khosa, Riaz Mazari, Jawariya Zafar, Wajiha Qamar, Nuzhat Pathan and Ramesh Kumar had submitted their answers.
PTI lawyer Faisal Chaudhry requested time to read the dissident members' replies and stated that he would begin arguments after reading all of the statements.
Balochistan member of the ECP Shah Muhammad Jatoi said that the commission had till May 14 to make a decision on the case.
The Chief Election Commissioner (CEC) further emphasised that in either case, the arguments should be completed by Tuesday so that there is time for decision-making.
Read NSC findings vindicate stance on 'threat letter': PTI
The ECP directed the parties to present their arguments and adjourned the hearing of the case till May 10.
Last week, the electoral watchdog summoned dissident legislators of the PTI in a reference moved against them under Article 63A (1) (b) (i) of the Constitution.
The decision came during a meeting held under the chairmanship of CEC Sikandar Sultan Raja. Senior officials of the commission were also in attendance.
Earlier, the PTI had sent references against 20 of its dissident members to the electoral watchdog, seeking their disqualification for violating party discipline and defecting.
Sources in the National Assembly Secretariat confirmed that references were received from the PTI leadership against the members which had to be submitted to the ECP within two days.
The disqualification reference against the members has been moved under the relevant constitutional provision – which stipulates de-seating of a party member in the event of defection – after they came out in public against the former Imran Khan-led government, joining voices with the then-opposition parties.


Source link