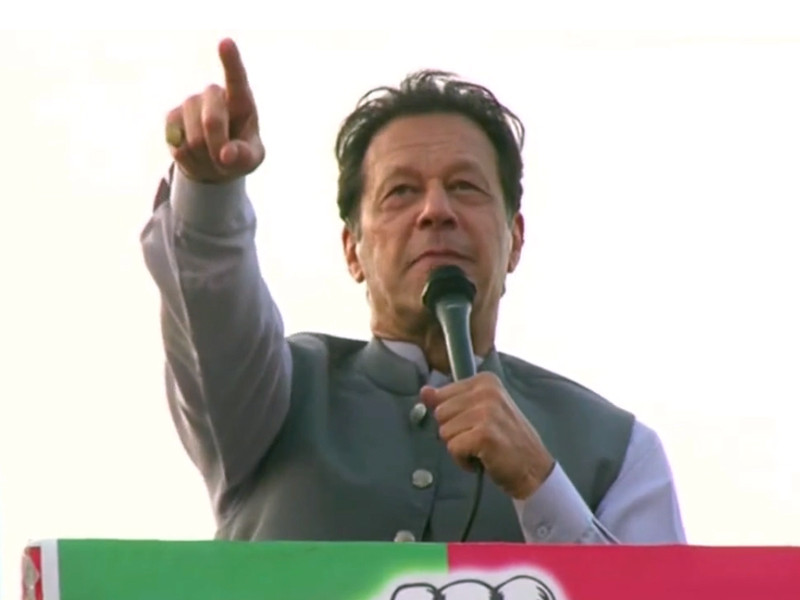 The Election Commission of Pakistan (ECP) has decided to take action against former prime minister and PTI Chairman Imran Khan over his failure to submit details of election expenses that he incurred during the recently-held by-elections held on October 16.
Last month, the ECP had notified the results of the by-elections of all seats excluding six national seats won by the PTI chief.
So far, former PM Imran has only submitted the details of election expenditures as a successful candidate from Charsadda constituency.
The returning officers of the respective constituencies will issue show-cause notice to the PTI chief over delay in submitting the details of polls expenses.
The PTI chief's case will be sent to the ECP if he failed to respond to the show-cause notice.
Also read: ECP de-notifies Imran, declares NA-95 seat vacant
As per law, the details of the poll expenses must be submitted to the ECP within three days after the date of election and the former prime minister could be disqualified to contest next election in light of the court's order.
Several candidates have been disqualified in the past for not submitting details of election expenses and the Supreme Court had also barred the losing candidates from contesting the next election.
Last month, Imran Khan won six National Assembly seats for the Pakistan Tehreek-e-Insaf in the October 16 by-polls that was seen as a direct contest between the former ruling party and the current ruling coalition, which also grabbed two seats.
Out of the eight National Assembly seats previously held by the PTI, Imran contested on seven, while Meher Bano Qureshi was to defend the party's bastion in Multan. However, the Pakistan Peoples Party (PPP) made inroads, with Hakeem Baloch winning in Karachi and Ali Musa Gilani in Multan.
According to results announced by Election Commission of Pakistan, Imran won the National Assembly seats from Mardan, Charsadda and Peshawar in Khyber-Pakhtunkhwa, Faisalabad and Nankana Sahib in Punjab and the Korangi district of Karachi in Sindh.
The PPP won in Multan, Punjab and Malir district of Karachi. Besides, by-polls were also held on three seats of the Punjab Assembly previously held by the Pakistan Muslim League-Nawaz (PML-N). According to the results, the PTI emerged victorious on two seats, while the PML-N retained one.


Source link