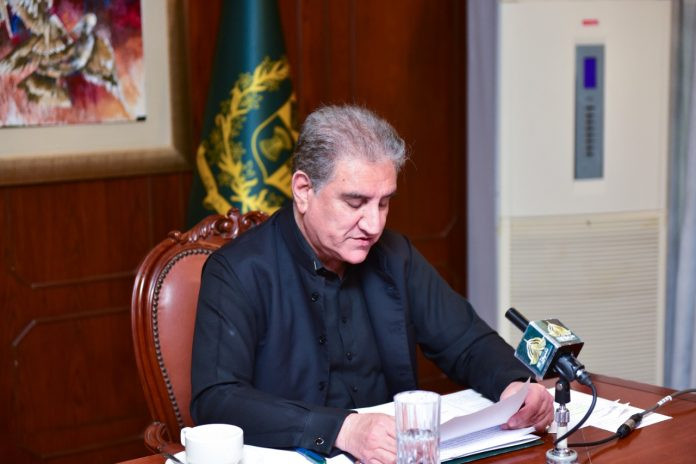 'Diplomacy best option to resolve disputes'

Foreign Minister Shah Mahmood Qureshi on Monday held a telephonic conversation with his Polish counterpart Zbigniew Rau and discussed bilateral ties as well as the evacuation of stranded Pakistanis from war-hit Ukraine.
The two sides exchanged views on Pakistan-Poland relations as well as regional and international issues of mutual interest, the Foreign Office said in a statement.
FM Qureshi "highly appreciated" the Polish side for receiving Pakistani students and the community being evacuated from Ukraine.
He added that Pakistan looked forward to continued assistance from the Polish government during this difficult period.
The Polish foreign minister assured of Poland's full support and facilitation in the evacuation process. So far, 606 Pakistani including students have been safely evacuated to Poland from Ukraine.
Recalling his earlier phone conversation with the Polish foreign minister last September, Qureshi said that Pakistan had close ties with Poland and remained committed to further enhance them across all areas of mutual benefit.
Regarding the situation in Ukraine, FM Qureshi expressed Pakistan's serious concern and underscored Pakistan's belief that disputes should be resolved through dialogue and diplomacy.
Read Pakistan urges de-escalation in Russia-Ukraine conflict
The foreign minister noted that Prime Minister Imran Khan in his recent visit to Moscow had regretted the situation and had hoped that diplomacy could avert a military conflict.
The prime minister had further stated that conflict was not in anyone's interest and that the developing countries were always hit the hardest economically.
Qureshi reiterated Pakistan's strong emphasis on de-escalation, dialogue and diplomacy. The two ministers agreed to remain in close contact.
Meanwhile, the Pakistan embassy in Ukraine said on Monday that a night-time curfew was imposed in various cities of Ukraine for the last three days; however, the embassy was taking steps to repatriate the stranded Pakistani community members, including students.
The embassy said that the total number of Pakistanis in Ukraine was 7,000–4,000 ordinary citizens and 3,000 students. It added that a large number of Pakistanis had already left Ukraine on the instructions of the embassy, while steps were being taken to repatriate the remaining Pakistanis and the students.
In this regard, the embassy has already set up various focal points for the return of the citizens. It added that the embassy was providing accommodation and transportation facilities to the Pakistani students in Ternopil.
According to the embassy statement, for the past two days, it added, Kyiv had been under the curfew. "The situation is uncertain in Kyiv at present, but as soon as the situation improved, the stranded Pakistani students will be evacuated," it added.


Source link