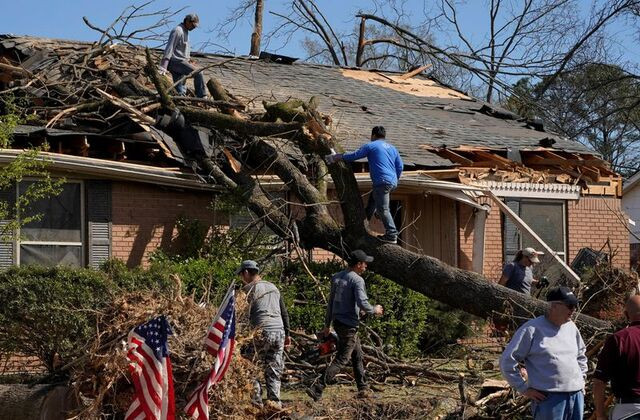 The death toll from a violent storm that whipped up tornadoes in the Southern and Midwestern regions of the United States rose to at least 29 over the weekend, according to officials and media reports.
In Memphis, Tennessee, two children and an adult were found dead on Saturday after the storm's heavy winds knocked trees onto several houses, according to the Memphis Police Department.
In Tennessee's McNairy County, officials reported that an additional two people had died, having reported seven deaths earlier on Saturday, according to local media.
The bodies of a couple were found at a campground in McCormick's Creek State Park in Owen County, Indiana, according to the state's Department of Natural Resources.
Another 15 deaths from the storm, which generated tornadoes in several areas, were earlier reported in Arkansas, Illinois, Indiana, Delaware, Mississippi and Alabama. Scores of people were injured and many buildings damaged or destroyed.
Also read: Death toll tops 20 as storm takes aim at eastern US
US President Joe Biden declared a "major disaster" in Arkansas on Sunday, ordering federal aid to help with the recovery.
The National Storm Prediction Center warned of severe weather on Sunday in parts of North and Northeast Texas around Dallas and Fort Worth, including very large hail, significant wind gusts and a "strong tornado or two."
Similarly severe weather, including thunderstorms, was forecast for Tuesday in much of the Midwest between Chicago and Little Rock, Arkansas, the center said.


Source link