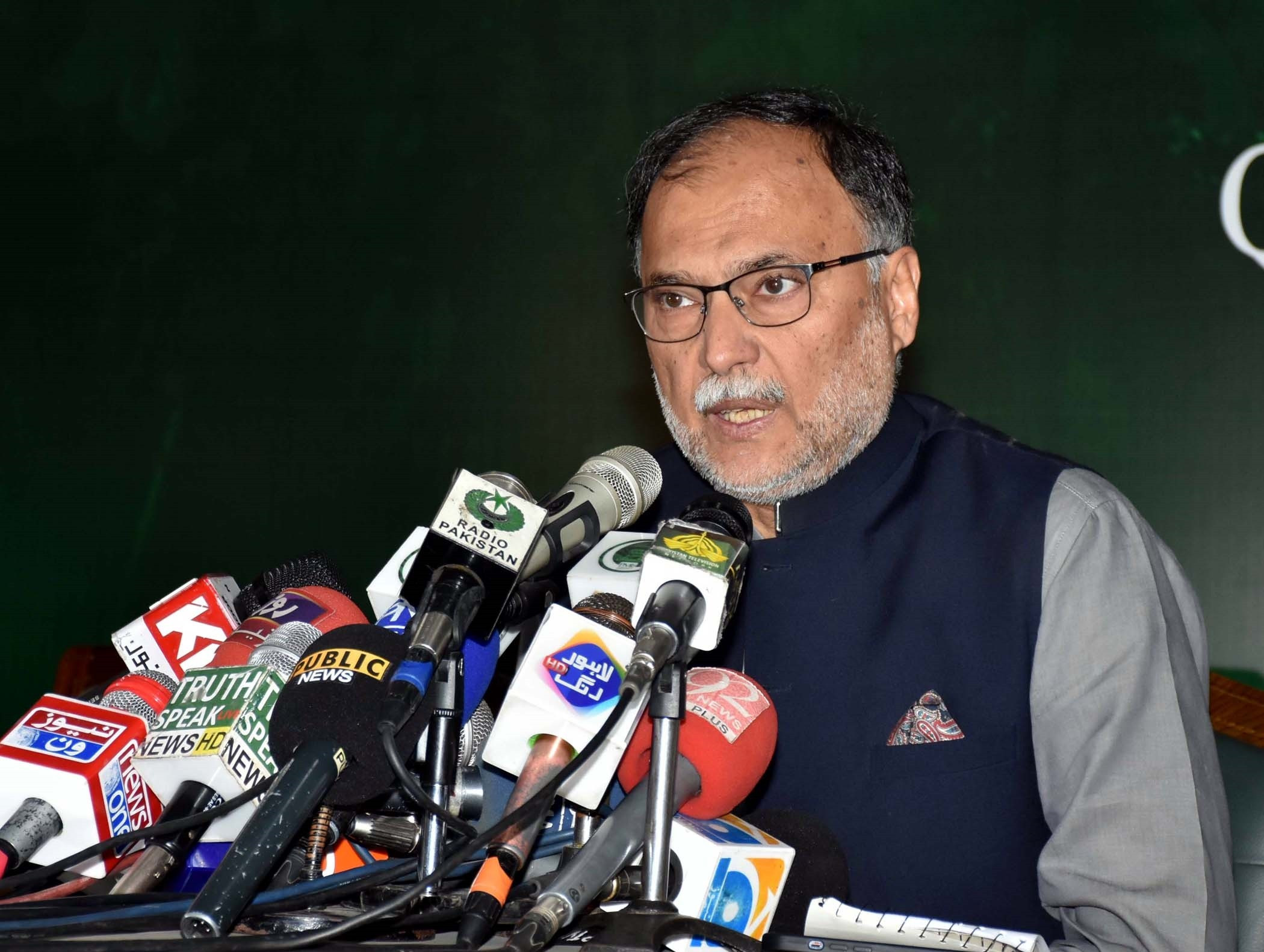 Minister for Planning and Development Ahsan Iqbal has held former prime minister Imran Khan responsible for Saturday's hooliganism at a restaurant, saying the PTI chairman "laid the foundation of hatred" in the country.
A day earlier, apparent PTI supporters heckled the senior PML-N leader at McDonald's branch in Punjab's Behra city. Video of the incident doing the rounds on social media shows a family calling the minister "thief, thief" while he was placing an order.
Federal Minister of Planning and Development Ahsan Iqbal was swarmed with chants of 'thief' as he stood in a fast food restaurant waiting to place his order.#etribune #news #ahsaniqbal pic.twitter.com/ujykBExbgr
— The Express Tribune (@etribune) July 8, 2022
Address a press conference in Lahore on Saturday, Iqbal said he will not seek legal action against the 'PTI supporters', maintaining that he will lodge the complaint of the incident with the "people's court".
He also blamed PTI Chairman Imran for the incident, saying he promoted the "culture of hatred" against his political opponents despite being a sportsman.
He said people from different walks of life contacted him after the yesterday's incident and expressed sympathy and extended support to him.
Also read: Suleman Sharif lambasted for calls to incite violence
Iqbal also said that he does not need to highlight his services for the country and nation and added that every citizen of Pakistan loves this country and we should promote love among each other.
He also asked the PTI supporters to introspect if they were "acting ignorant in love with their leader who is using them for political agenda".
Reacting to the incident on Saturday, the minister wrote on his Twitter handle: "When they [PTI supporters] did not stop chanting slogans, people [there] also start shouting 'give us account of Gogi and Peerni'," he claimed while referring to the former prime minister Imran Khan's wife Bushra Bibi and her close friend Farah Khan.
"Just as ignorant and lunatic he is, he is also producing followers like himself," the planning minister said in reference to Imran Khan.
آج بھیرہ میکڈونلڈ میں ایک یوتھین فیملی سے مڈبھیڑ ہوئی جو بظاہر خود کو ایلیٹ سمجھتی ہے مگر مکالمہ کی بجائے جاہلوں کی طرح نعرہ بازی شروع کر دی۔جب یہ نعرہ بازی سے باز نہ آئی تو لوگوں نے بھی نعرے لگا دئیے "گوگی پیرنی کا حساب دو"
جیسا جاہل اور پاگل خود ویسے ہی پیروکار پیدا کر رہا ہے۔
— Ahsan Iqbal (@betterpakistan) July 8, 2022
In another Tweet, the federal minister called the protesters "ignorant and fascist", comparing them with the followers of Hitler. "We are not going to be intimidated by these ignorant people. This is an advert for his mental bankruptcy. Imran is polarising the society at the behest of illicit funders."


Source link