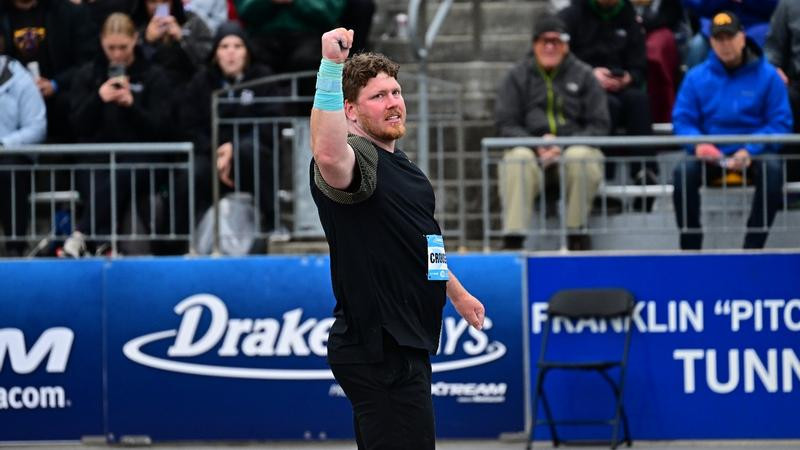 Reigning world shot put champions Ryan Crouser and Chase Ealey of the United States captured Drake Relays titles Saturday as two classic American meets produced solid efforts despite bad weather.
The 113th Drake event at Des Moines, Iowa, and the 127th Penn Relays in Philadelphia both saw athletes hampered by cool, rainy conditions.
Crouser, who captured Olympic gold at Rio and Tokyo, won the men's crown with a meet record of 22.38 meters, besting compatriot and 2015 world youth champion Tripp Piperi by 0.89m.
"It felt wet," Crouser said. "It was a cold and rainy one today but it was good. I threw really well today considering the conditions."
The ring was nearly swamped by the showers.
"This is one of the wettest meets I've ever done," Crouser said. "The ring behind me is about a 20-foot puddle right now. That's about as wet a meet as you will ever see.
"The guys were joking I should have brought my fishing rod with me, I might have caught something out there."
Ealey took the women's title with a top effort of 19.12, this year's best by an American and fifth in the world overall for 2023.
Tia Jones ran the second-fastest time in the world this year to win the women's 100 hurdles in 12.44 seconds, defeating runner-up Tonea Marshall by .17 of a second with Nia Ali third in 12.67 on an all-US podium.
Jones's time trails only the 12.36 run of American Masai Russell earlier this month while Marshall shaved .01 off her season best.
American Paul Ryan won the Drake 1,500 men's crown in 3:40.23, edging Britain's Charlie Grice by .44 of a second.
At the Penn Relays, NFL Philadelphia Eagles wide receiver Devon Allen won the 110 hurdles in 13.46 seconds, the 28-year-old American edging Brazil's Rafael Pereira at the tape by 0.002 of a second.
Allen, fourth at the Tokyo Olympics in the 110 hurdles, spent last year on the practice squad for the Eagles, who lost to Kansas City in the Super Bowl this past February.
Hometown hero Ajee Wilson, the reigning world indoor 800m champion and a two-time Olympic bronze medalist, won the women's 600 in 1:24.45, edging Jamaica's Natoya Goule by .51 of a second.
"So many people in the stands have seen me grow up," Wilson said. "It's super special."
The race produced the four best times in the world this year at the lesser-contested distance.
American Josette Andrews won the women's 1,500 meters in 4:04.88, the third-fastest time in the world this year.
Andrews defeated Italian runner-up Sintayehu Vissa by 2.39 seconds.
Australian Jessica Hull ran this year's best time of 4:04.19 four weeks ago at Brisbane.
American Kameron Jones won the men's 600 in 1:16.04, a personal best, after his training partner, Jamaica's Rajay Hamilton, fell and did not finish.


Source link