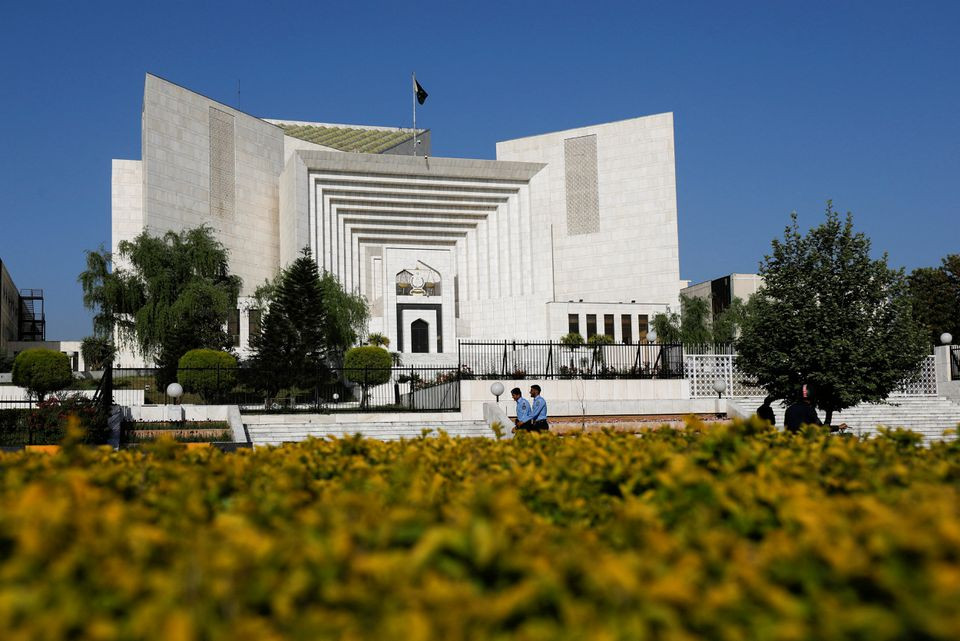 [ad_1]
The Supreme Court has remarked that people in the country are suffering due to the borrowing of billions of dollars for projects.
The remarks came after the railways secretary apprised the court that Mainline-I (ML-I) was a $9.8 billion project that had been approved by the Executive Committee of the National Economic Council (Ecnec), adding that millions of rupees were required for the project.
A three-member bench, headed by Chief Justice of Pakistan Umar Ata Bandial, on Monday heard the Railway Golf Club case.
During the hearing, the bench expressed displeasure with the railways secretary on the issue of taking loan, ordering the secretary to submit a comprehensive plan pertaining to making the Pakistan Railways (PR) profitable in two weeks.
CJP Bandial said, "The court will not allow anyone to talk about projects worth billions of rupees as borrowing has become a sensitive issue in the country."
The chief justice said everyone "talks about borrowing billions of dollars to start projects", questioning the progress being made on the infrastructure worth billions of dollars already in the country.
"The court is no longer impressed by the talk of [projects worth] billions of rupees," Justice Bandial stated.
He remarked that he travelled to Sindh during holidays, saying that even today railway tracks were surrounded by floodwater.
Read ML-I cost may be raised to $10b
The CJP then quoted a supplement published by The Economist on the infrastructure of Pakistan, saying that the country needed performance and efficiency, "not luxurious comforts".
"Railways is the lifeline of Pakistan. Improvement in the railway system will be a great service to the common man," he maintained, noting that encroachments around railway lines were increasing.
"If institutions do not protect their lands, there will be encroachments," he stated.
In his remarks, Justice Ijazul Ahsan asked the railways secretary "how much profit the ministry is earning annually".
The secretary apprised the court that the annual profit target of railways for five years was Rs58 billion, adding that railways earned Rs62 billion in the year 2022.
He informed the court that during last year's floods, Pakistan Railways suffered a loss of Rs628 billion, adding that railways itself restored the tracks after the floods without taking "a single penny from the government".
"Road construction in the country has gained more importance and railways has been pushed back," the secretary said.
Subsequently, the hearing of the case was adjourned till the week commencing from January 23.

[ad_2]
Source link