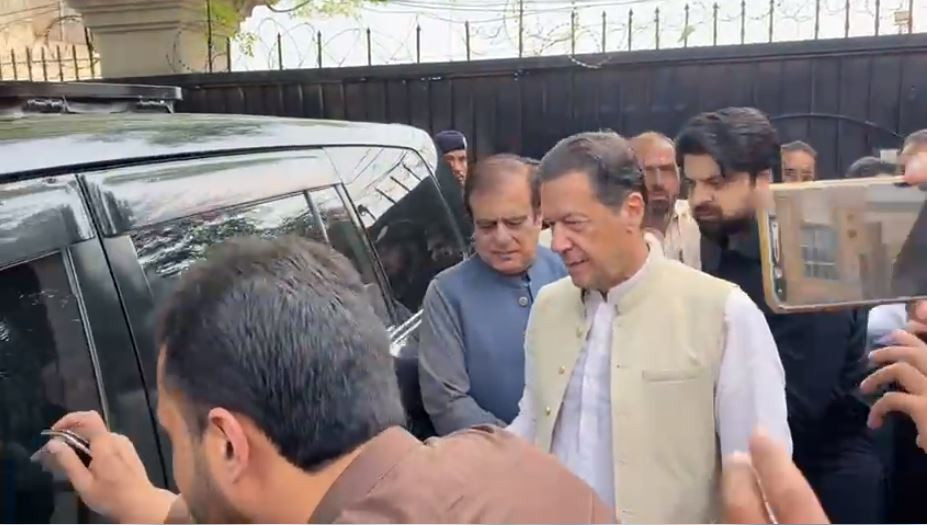 Pakistan Tehreek-e-Insaaf (PTI) chief and former premier Imran Khan and other co-accused were granted bail on Monday by a banking court in Islamabad in the prohibited funding and Foreign Exchange Act case.
The Islamabad High Court had transferred the Foreign Exchange Act case to the banking court and the interim bails of all accused were to expire on Monday (today).
Judge Rukhshanda Shaheen heard bail applications of the former premier and eleven co-accused including Younis Ali Raza, Sardar Azhar Tariq, Tariq Shafi and Faisal Maqbool.
Read Imran's arrest on cards as FIA summons him in prohibited funding case
All accused had been ordered to appear before the judge, however, during the proceedings today the judge accepted Imran's request for exemption from attendance.
The prosecution had argued that attending the long march was not a legitimate enough reason to not appear before the court. The court nonetheless approved Imran's request.
Accused Faisal Maqbool had also filed a request for exemption from attendance citing health issues. The banking court after hearing the arguments extended Imran Khan's interim bail until November 10.
The case
The FIA had booked PTI leaders including party chairman Imran Khan, the party's financial team, and a manager of a private bank in the prohibited funding case.
The case was lodged by FIA Commercial Banking Circle Islamabad.
Read More FIA directed to continue inquiry in prohibited funding case
According to a first information report (FIR), the former ruling party leaders have violated the Foreign Exchange Act and they were declared as the beneficiaries of suspicious bank accounts.
The FIA claimed that Abraaj Group also transferred $2.1 million to the bank accounts of the PTI.
The FIA kicked off its probe against the PTI in August this year after the Election Commission of Pakistan (ECP) had declared in its verdict that the party had indeed received illegal funding.
The case had been filed by PTI's founding but disgruntled member Akbar S Babar and had been pending since November 14, 2014.
The written order of the ECP stated that the political party had received illegal funds from foreign countries including the US, UAE, UK and Australia.


Source link