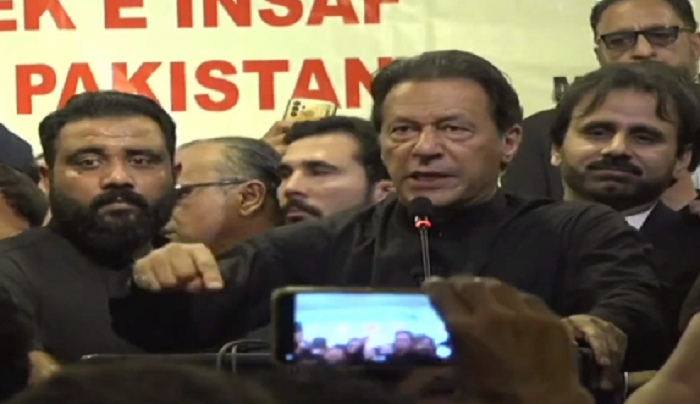 Former prime minister and PTI Chairman Imran Khan has termed the prevailing situation a "decisive moment" in the history of Pakistan, saying that if "thieves" – a term he uses for his political rivals – succeeded by getting NRO-2 then the country will have no future.
He expressed these views while addressing lawyers in the city court during his day-long visit to Karachi on Friday.
https://www.facebook.com/ImranKhanOfficial/videos/3341168926160675/
"If a small thief is in jail while a big thief is sitting in the PM's House then what will be the future of the country?"
Imran said the lawyers understand the importance of rule of law and added that if rulers continued to violate the law then the country's future will be bleak. "We must not allow this to happen."
He reiterated once again that he not doing politics but "waging Jihad against thieves" to get real freedom. "I want you all to be with me in this. The struggle for the creation of Pakistan was led by lawyers, so we want lawyers to be with us in the struggle."
Also read: Campaign for NA-237, NA-239 by-polls ends
Lashing out at his political opponents, Imran said "crooks" returned to the country after getting NRO to plunder the nation's wealth again.
The lawyers of our country have always fought for the rule of law and they played a major role in the 1947 Pakistan Movement, he added.
Imran arrived in Karachi ahead of crucial by-elections on Sunday in which he is contesting simultaneously from seven national assembly constituencies of the country.
Polling for NA-237 Malir and NA-239 Korangi will be held on Sunday 8am to 5pm without any break. The NA-237 and NA-239 had fallen vacant when Jameel Ahmad Khan and Mohammad Akram Cheema resigned respectively.


Source link