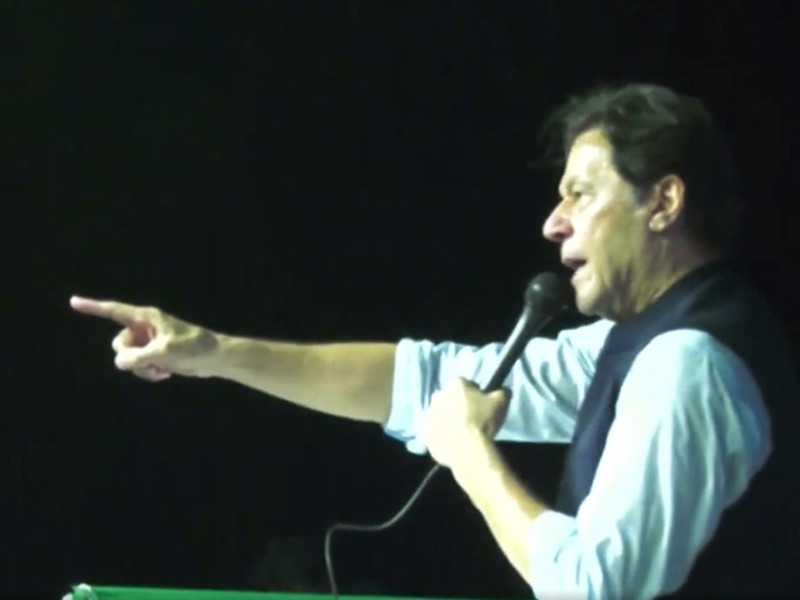 Alleging that a "conspiracy" is being hatched to topple the Punjab government, former prime minister and Pakistan Tehreek-e-Insaf (PTI) Chairman Imran Khan has claimed that party lawmakers are being offered "bribes" worth millions of rupees.
Addressing a public gathering in Chishtian, Punjab's Bahawalnanar district on Wednesday, the former premier alleged that 'Mr X and Mr Y' are threatening PTI lawmakers to accept the bribes on offer.
"They are planning to topple the [Punjab] government through a no-confidence motion," he said, implying the establishment's role if the no-trust vote succeeds against him.
The ousted premier said that the conspiracy to topple the provincial government is in full swing to bring back former prime minister Nawaz Sharif.
Imran also said that Nawaz, despite being abroad, is making the most important decisions for the country including who will become the new army chief and who will be imprisoned.
Read more: Toshakhana reference 'misleading, baseless', Imran tells ECP
During his address, the PTI chief showed video clips of different PML-N leaders who could be heard saying that the establishment had played a role in the success of the no-trust motion against him earlier in the year.
Addressing Nawaz Sharif, Imran Khan said that he is waiting for the PML-N supreme leader to return to the country.
"Nawaz Sharif will receive a welcome that no one in the country's history has received," Imran sarcastically said, adding that the entire nation is waiting for him.
The PTI chairman went on to say that the entire nation is with him against the "thieves", a term he uses for the current rulers. "Pakistan has changed… the people have become aware of their misdoings."
The former prime minister said that when he was put in prison when he was involved in the struggle for judicial reforms. "I could only see small-time thieves in the prison because big dacoits are in the assemblies," he added.
Also read: Sedition case sought against Imran over COAS appointment controversy
He said that the current rulers have been looting the country for the past 30 years whereas the nation is struggling to provide higher education to their children.
Hitting out hard at the suspension of YouTube across the country during his Tuesday's Peshawar rally, he said that the government is taking action against those TV channels that are showing his speeches.
He said that the incumbent government wanted to disqualify him, therefore, fake cases were being registered. "All their techniques are failing that is why they are now trying to turn institutions against me."
The ousted prime minister added that Pakistan cannot become a prosperous country until the supremacy of rule of law is established. "Until there is no justice in the country, we cannot prosper," he added.
He further said that overseas Pakistanis send remittances but the country's rulers steal the money and launder them abroad.
https://www.facebook.com/ImranKhanOfficial/videos/496931642439226