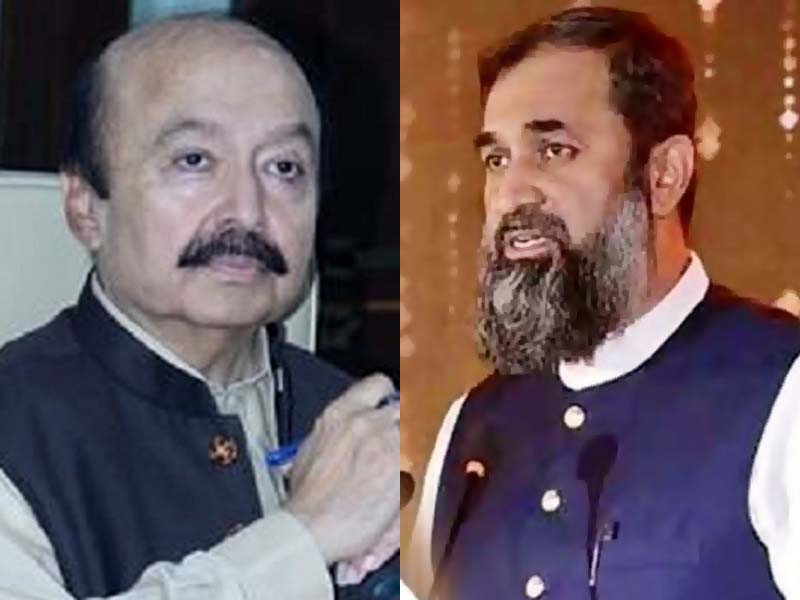 [ad_1]
Punjab Governor Balighur Rehman on Wednesday declared provincial assembly Speaker Sibtain Khan's ruling on the chief minister's confidence vote as "illegal and unconstitutional".
Governor Rehman had directed Punjab Chief Minister Pervaiz Elahi to seek a vote of confidence on December 21 (today) after the opposition parties — PPP and the PML-N — filed a no-confidence motion against Elahi in a bid to forestall the dissolution of the provincial assembly.
On Tuesday, Speaker Sibtain Khan, who was chairing the Punjab Assembly session, adjourned the sitting until Friday, instead of Wednesday (today) as directed by the governor. The speaker said that the governor's letter asking the chief minister to seek a vote of confidence was against the assembly rules as well as the Constitution.
The speaker ruled that the governor's order to the chief minister was "unconstitutional because the assembly was already in session and unless the current session was prorogued, the governor could not summon a fresh session".
"The provincial assembly of the Punjab is already in the session having been summoned by the speaker on a requisition by the members of the assembly on 23rd October …" the ruling said. "Until and unless the current session is prorogued the governor cannot summon any fresh session," it added.
"Regards the Assembly being in session, having been summoned by your goodself. under clause (3) of Article 54 read with Article 127, please note that the current session of the Punjab Assembly can only be prorogued by you," the governor said in a reply.
Reply to the Speaker's ruling of yesterday, which was illegal and unconstitutional. pic.twitter.com/Akoen3s84Q
— M Baligh Ur Rehman (@MBalighurRehman) December 21, 2022
Referring to his earlier order on the confidence vote, the governor said it was implied in the communiqué that "if the ongoing session was prorogued by your goodself at any time before 1600hrs [4pm] today, a new session was required to be summoned at 1600hrs on 21st December, 2022 for a vote under Article 130(7)".
Also read: Another showdown looms in Punjab
"In the alternate, a sitting of the Assembly at the noted time and date could have been summoned in the 41st Session of the Assembly, which your goodself has also noted that it was summoned by me and was never prorogued: or a fresh session specifically summoned for the purposes of requiring the Chief Minister to obtain the vote of confidence," he added.
The governor said the speaker's ruling is in violation of Rule 209 of the Rules of Procedure of the Provincial Assembly of the Punjab, 1997. "Under sub-rule (1), a ruling on interpretation and enforcement of the relevant Articles of the Constitution as regulate the business of the Assembly can only be given on a 'point of Order'. It is evident that no point of Order was raised on the floor of the house on 20th December 2022, and as it seems, your goodself has given the Ruling in your office, which is in violation of Rule 209(1)."
The govenor further added that: "As the custodian of the House and holder of an esteemed constitutional office, it was imperative for your goodself not to act in a partisan manner; or for that matter, in any other way that violates your oath."
The governor said that, as per the Constitution, whether the assembly is "in session or otherwise does not have any effect whatsoever on the operation of Article 130(7)".

[ad_2]
Source link