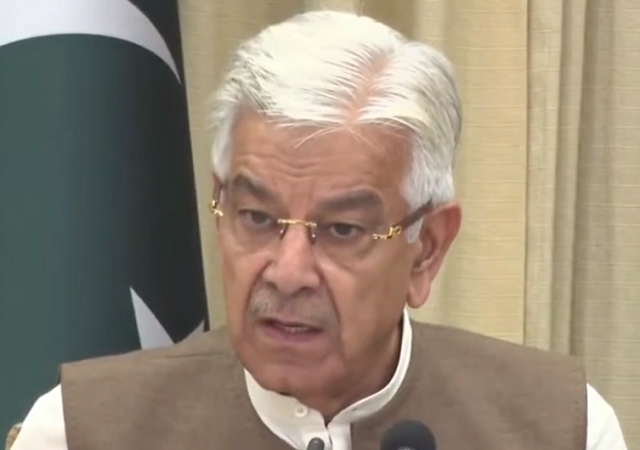 Defence Minister Khawaja Asif said on Wednesday that "the formalities" of appointing a new army chief will "likely take a day".
Speaking informally with journalists outside the Prime Minister Office (PMO), the defence minister hinted that the new army chief may be appointed before PM Shehbaz embarks on a trip to Turkey on November 25.
It may be noted that the new army chief will take charge on November 29 as the incumbent General Qamar Javed Bajwa would doff his uniform the same day after completing six years in office.
The PMO also confirmed earlier this morning that it had received the summary for the COAS' appointment.
Read COAS appointment: Will SC interfere to nip the potential crisis in bud?
The army's General Headquarters (GHQ) has also sent a summary to the Ministry of Defence about the Chief of Joint Chief of Staff and the COAS appointment.
Sources have also revealed that the defence minister met with Prime Minister Shehbaz Sharif today and discussed the army chief's appointment.
Speaking to the media, Asif said today that, "The legal process on the summary is underway."
Brushing off a journalist's question about the government's stance on following the seniority principle, Khwaja Asif said "I don't know about that, but the names should be finalised by tomorrow and allies and cabinet members will also be taken into confidence."
"Be it the president or the prime minister, decisions should be made according to the Constitution and in the national interest," he added while responding to another press representative.
Asif also said he did not "want to speculate" but remained hopeful that the "uncertainty that has gripped the country for the past few months will definitely end once the appointment matter settles before the PM leaves".
Read More Instability to persist till COAS' appointment issue resolved: Rashid
"The process has its own sanctity," he said as he regretted that the issue had been made "into a big deal" due to "our politics and media" among other factors.
Urging media to remain unbiased, the minister also quashed rumours that a summary had been received prior to the one in question.
The PM is to hold meetings with members of the coalition government, following which, the parliamentary members of the allied parties have been invited to PM House later this evening.
It may be noted here that there have been questions about the seniority list.
Rumours have it that a certain candidate may not be part of the summary since his retirement is due before the army chief's retirement.
But a government figure dismissed such claims, saying he would be very much part of the summary and considered for the top slot.
As per the seniority list, Lt General Asim Munir, Lt General Sahir Shamshad Mirza, Lt General Azhar Abbas, Lt General Numan Mahmud and Lt General Faiz Hameed are in contention for the job of chairman Joint Chiefs of Staff Committee and the army chief.


Source link