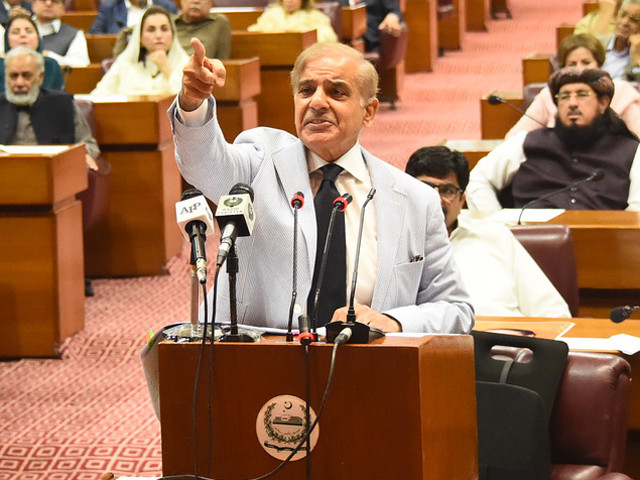 Prime Minister Shehbaz Sharif said on Thursday that the coalition government would decide when to hold the next general elections and stressed that the incumbent government still has at least a year left in its tenure.
"The doors were open for talks with the opposition but I will not take any dictation," the premier said while addressing the floor of the National Assembly.
"I can form a committee but dictation will not work and no group or party can be allowed to rebel against the Constitution."
"How long will the people of my country continue to suffer this joke?" the PM asked. "KP police and the chief minister came with armed groups. This is not happening anywhere in the world. The chief minister of a province attacked the federation with armed people."
The prime minister added that on April 22, he was sworn in as the prime minister of Pakistan, but was threatened when he decided to work for the betterment of the country.
Read More: PM Shehbaz lauds LEAs after Imran 'calls off' sit-in
"We had two goals in front of us. One was transparent elections and the other was the economy. When we decided to work towards these goals, we were given messages of getting besieged. There is no room for such menace."
He further condemned the former prime minister for creating a situation akin to the 2014 sit-in where clashes were witnessed and state property was damaged.
"He [Imran] criticised the state institution and the courts. He changed his tone depending if the court's decisions were against or in favour. Nothing would remain if history is allowed to be repeated," he stressed.
Shahbaz added that the Election (Amendment Bill) 2022, which was passed earlier today, had laid the foundation for transparent elections.


Source link