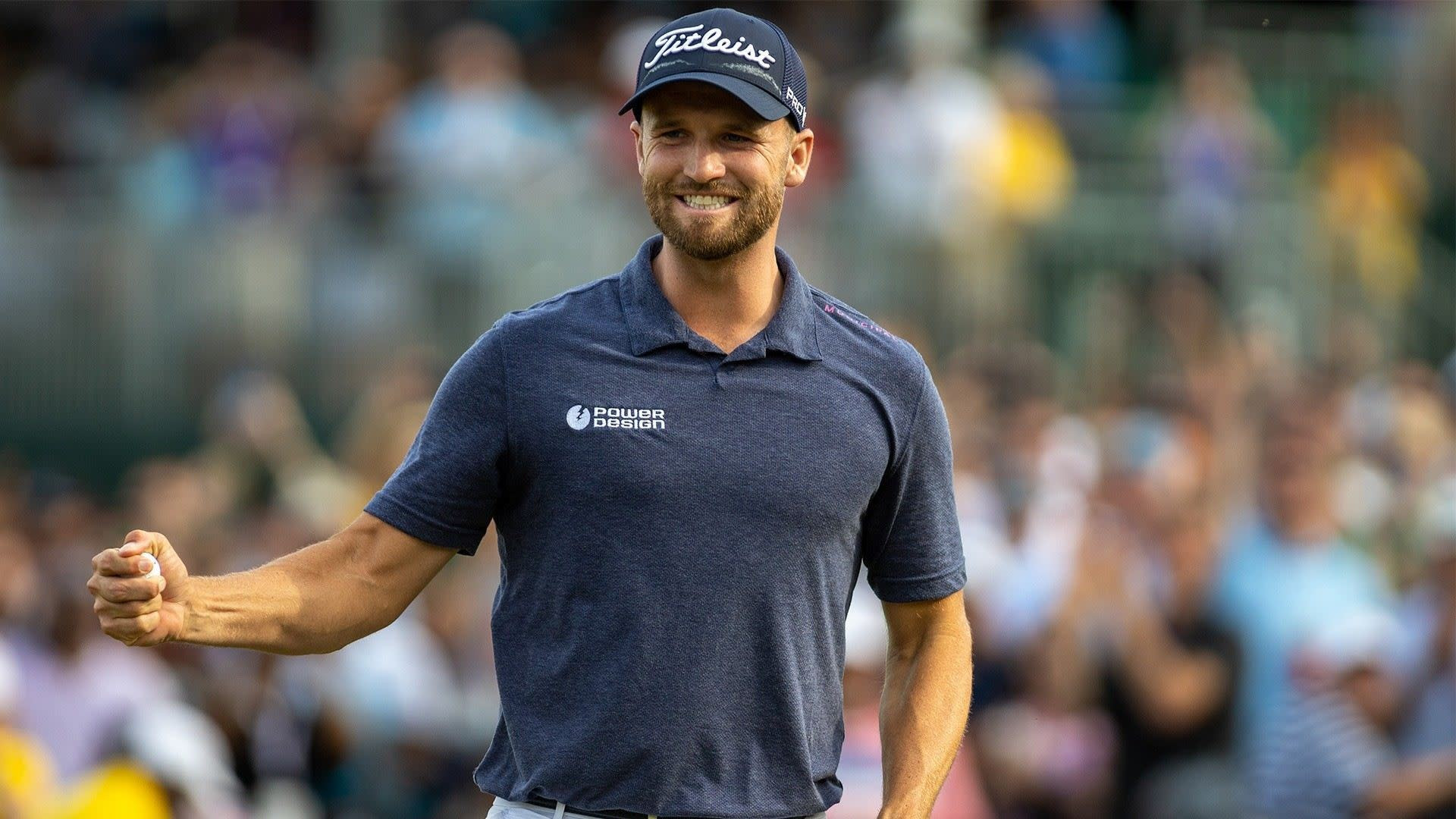 Wyndham Clark outclassed reigning Olympic champion Xander Schauffele in a back-nine battle on Sunday to win the Wells Fargo Championship by four strokes for his first career PGA Tour triumph.
The 29-year-old American fired a three-under par 68 to complete 72 holes on 19-under 265 at Quail Hollow in Charlotte, North Carolina and defeat fifth-ranked Schauffele, who shot 70 to finish on 269.
"I'm a little choked up," Clark said as he fought back tears. "It has been a long five years to get to this point on tour. I thought I would have had one earlier but it was well worth the wait. I'm just so grateful."
Clark squandered the two-stroke lead he had when the day began, then picked up strokes on every hole from the eighth through the 12th to seize command and denied playing partner Schauffele by matching his birdies down the stretch.
"There's so much that goes into this," Clark said. "There are so many times when I wanted to cry and break clubs, and I did break the clubs sometimes, in this journey and to get to this point is so sweet.
"It's just amazing to finally do this."
Clark said it took a lot of mental fortitude, the very thing he has worked hard upon this year, to pull off the triumph.
"Mentally I was super strong," he said. "Didn't start out great. I was kind of shaky. In years past I might have folded. This time I just stayed patient and hung in there and I caught fire on the back side."
Clark won the $3.6 million top prize at the $20 million event, surpassing his prior best PGA payday of $485,000.
His PGA victory fulfilled a dream he had shared with his late mother, who died of cancer while Clark was in college.
"My mom, obviously, is not here," he said. "I wish she was, but I know she's watching."
England's Tyrrell Hatton and American Harris English shared a distant third on 272 with England's Tommy Fleetwood and Australia's Adam Scott, the 2013 Masters champion, another stroke adrift.
World number 80 Clark, a runner-up at the 2020 Bermuda Championship in his best prior showing, had three top-six finishes in his past five starts before his breakthrough.
Schauffele, seeking his eighth career PGA title and first of the year, settled for a fifth consecutive top-10 result.
Clark opened with a bogey, finding a left cart path off the tee, and Schauffele sank a nine-foot birdie putt at the third to pull level.
Schauffele birdied the par-5 seventh after pitching to four feet to seize the lead, but Clark made a four-foot birdie putt at the eighth to pull level.
Schauffele missed a par putt at nine from just inside eight feet to fall behind again at the turn.
Clark blasted out of a bunker to five feet and holed his birdie putt at the par-5 10th, then Schauffele found a bunker at 11 and missed a 10-foot par putt.
Clark followed with a 19-foot birdie putt at the 12th, boosting his edge to four strokes, and kept the margin by sinking a birdie from 3 1/2 feet at 14 just after a Schauffele birdie.
Schauffele made a tap-in birdie at the par-5 15th but again Clark answered, curling in a tense nine-foot birdie putt to reach 20-under par and stay four ahead.
Clark made a pressure-packed par putt from 6 1/2 feet on 16, Schauffele made a bogey at the par-3 17th and Clark closed out matters with a bogey.


Source link