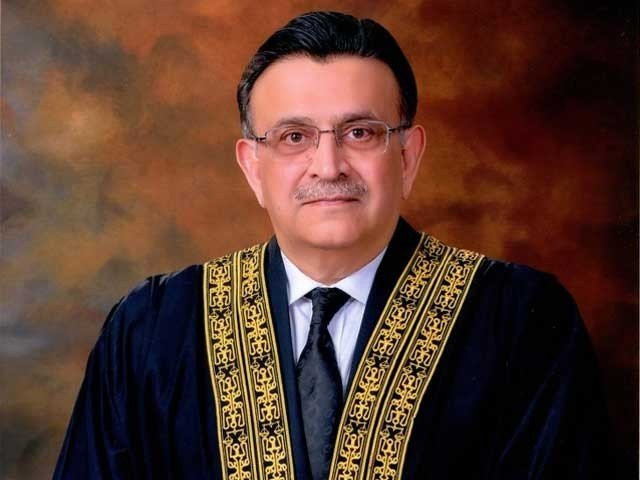 The chief justice of Pakistan Umar Ata Bandial observed on Thursday accountability was essential for a constitutional rule in the country but stressed that the problem lay in the misuse of the law and not in the law itself.
During hearing of a petition filed by Pakistan Tehreek-e-Insaf (PTI) Chairman Imran Khan challenging the recent amendments to the National Accountability Ordinance (NAO), the chief justice remarked that corruption should be dealt with strictly but what would be the benchmark for the court.
A three-member special bench of the apex court conducted the 21st hearing of the petition during which Imran's lawyer Khawaja Haris continued his arguments. Haris told the court that the current law was in violation of the social contract between the people and public representatives and the Constitution.
The chief justice agreed with Haris that corruption was a disease, stressing that accountability against corruption was essential for constitutional rule. However, he asked where the court drew the line that the basic rights were affected. The law was not the problem, its misuse was, he added.
Sitting on the bench, Justice Mansoor Ali Shah said that what if a citizen said there was no law on corruption, so ask parliament to enact a law and then the citizens would come again and say that the law against corruption was not strict, instruct parliament to make the law stricter.
Continuing, Justice Shah further said that if the court gave that order, the citizen would come again to the court and say that the law was still not strict enough. He then added that if this was to be done by the court, then why not (the court should) do the legislation too.
The judge then asked Khawaja Haris, was it the function of the court to tell parliament to enact the law, or make it stricter. The lawyer replied that if the court permitted, he could present the judicial precedents in response to this question.
Justice Shah said that he would wait for that day when Haris would give examples of judicial decisions related to the case. He then told the lawyer that he had questions for the last day of his arguments, but Haris should first tell the court when would be the last day of his arguments.
Justice Shah pointed out that more important than the National Accountability Bureau (NAB) laws was the legislation to deal with climate change. Entire Pakistan was affected by floods. What if a citizen came to the court to say that this law was not strict enough to deal with climate change?
The chief justice told Khawaja Haris that he was arguing that corruption affected the basic rights so what the court's decision should be. Haris replied that under the current law, public office-holders would be excluded from accountability.
He requested the court to find answers by keeping the questions raised in his petition in mind. He repeated that being unaccounted for corruption affected the basic rights. However, the chief justice said that Reko Diq case was important and the court would hear it next week. He then adjourned further hearing until November 29.


Source link