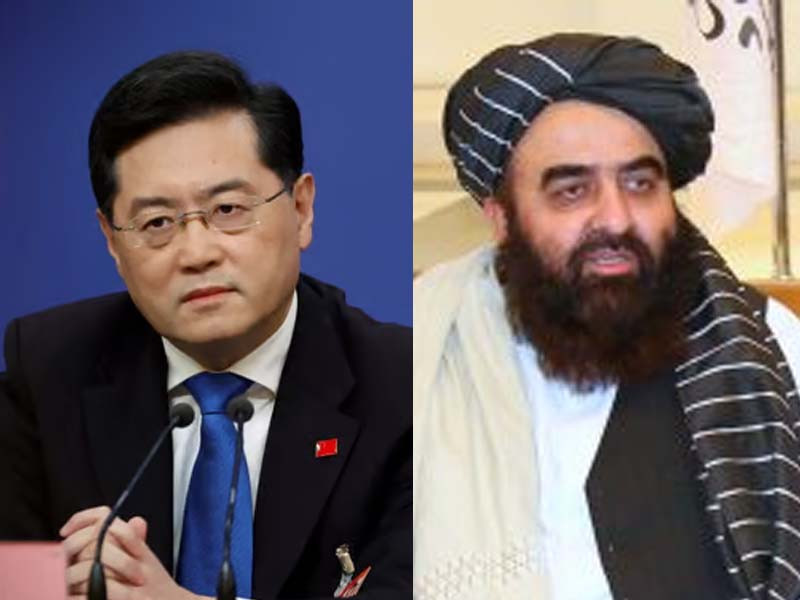 China's State Councillor and Foreign Minister Qin Gang and Afghanistan's Acting Foreign Minister Amir Khan Muttaqi arrived in Islamabad on Friday on official visits at the invitation of Foreign Minister Bilawal Bhutto-Zardari.
This is Chinese Foreign Minister Qin Gang's first official visit to Pakistan since assuming office. Besides the bilateral meetings, the Chinese foreign minister will participate in the 5th China-Pakistan-Afghanistan Trilateral Foreign Ministers' Dialogue scheduled to be held on Saturday.
Both FM Bilawal and his Chinese counterpart will co-chair the 4th round of the Pakistan-China Strategic Dialogue.
The strategic dialogue is a structured mechanism that reviews bilateral cooperation in key areas. The two sides will reaffirm the abiding vitality of the all-weather strategic cooperative partnership; develop a roadmap for multidimensional cooperation between Pakistan and China, and discuss the evolving regional and global landscape.
Also read: Chinese FM to visit Pakistan for trilateral Afghan dialogue
Meanwhile, Acting Afghan Foreign Minister Mawlawi Amir Khan Muttaqi also arrived in the country on a four-day official visit.
According to the Foreign Office spokesperson, Muttaqi will lead a high-level delegation, which includes Acting Afghan Minister for Commerce and Industry Haji Nooruddin Azizi, and senior officials from the Afghan Ministries of Foreign Affairs, Transport, and Trade.
Apart from holding bilateral meetings, the minister will also participate in the 5th China-Pakistan-Afghanistan Trilateral Foreign Ministers' Dialogue on Saturday.
The visit of the Acting Afghan Foreign Minister is a continuation of Pakistan's political engagement process with Afghanistan, which includes the visit of Pakistan's Minister of State for Foreign Affairs Hina Rabbani Khar to Kabul on November 29 last year and the visit of a high-level delegation led by the Defence Minister Khawaja Asif to Kabul on February 22 this year.
During the Afghan delegation's visit, the two sides will review the entire spectrum of bilateral relations between Pakistan and Afghanistan in the political, economic, trade, connectivity, peace and security, and education domains.
Pakistan is desirous of a peaceful, prosperous, stable and connected Afghanistan and reiterates its commitment to pursue continuous and practical engagement with the interim Afghan government.


Source link