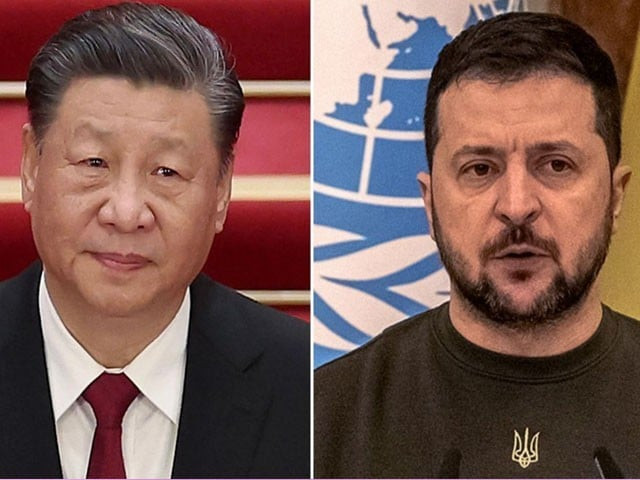 China will send a special representative to Ukraine, President Xi Jinping told his Ukrainian counterpart Volodymyr Zelenskyy in a first phone call on Wednesday since Russia launched war on Ukraine last year.
"China is consistent and clear-cut in its readiness to develop bilateral relations with Ukraine. Two sides need to carry forward the tradition of mutual respect and sincerity, and take the China-Ukraine strategic partnership forward," Xi told Zelenskyy, according to China's Foreign Ministry spokeswoman Hua Chunying.
Xi reiterated China's position on the Ukraine crisis, saying, "China always stands on the side of peace."
Beijing's "core stance is to facilitate talks for peace," said Xi.
Read more: Can Xi help bring peace to Ukraine?
"China did not create the Ukraine crisis, nor is it a party to the crisis. As a permanent member of the UN Security Council and a responsible major country, China would not sit idly by, nor would it add oil to the fire, still less exploit the situation for self gains," the Chinese president told Zelenskyy.
Emphasising dialogue and negotiation as "the only viable way forward, Xi said: "China will send the Special Representative of the Chinese Government on Eurasian Affairs to Ukraine and other countries to have in-depth communication with all parties on political settlement of the Ukraine crisis."
"It is hoped that all parties would seriously reflect on the Ukraine crisis and jointly explore ways to bring lasting peace and stability to Europe through dialogue," he added.
For his part, Zelenskyy said his phone call with Xi was "long and meaningful."
I had a long and meaningful phone call with 🇨🇳 President Xi Jinping. I believe that this call, as well as the appointment of Ukraine's ambassador to China, will give a powerful impetus to the development of our bilateral relations.
— Володимир Зеленський (@ZelenskyyUa) April 26, 2023
"I had a long and meaningful telephone conversation with Chinese leader Xi Jinping. I believe that the conversation, as well as the appointment of the Ambassador of Ukraine to China, will give a powerful impetus to the development of our bilateral relations," Zelenskyy wrote on Twitter.


Source link