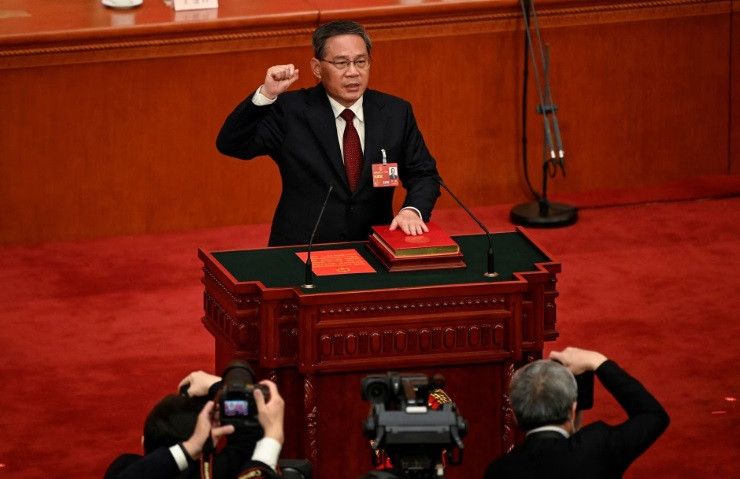 China has vowed to further stabilise growth, prices and employment and support private businesses as it affirms its commitment to charting a course to open up its market to the world while wrapping up over a week of meetings.
The new premier, Li Qiang, pledged to implement the important decisions and plans made at the 20th National Congress of the Communist Party of China (CPC), which has laid out the country's development plans for the next five years and beyond.
Li met the press after the closing of the first session of the 14th National People's Congress – the country's national legislature – and answered questions from both Chinese and foreign media for one and a half hours.
He was flanked by four vice premiers of the State Council which is tasked with running the country. All government ministries report to the State Council, run by the premier and four other vice premiers who are given areas of responsibility based on their personal expertise.
Speaking during his first press conference, Li reiterated that the government will make solid efforts in every piece of work concerning the people's livelihood and underlined the CPC's ultimate aim of improving people's well-being.
"China will continue to pursue an employment-first strategy and increase government support to boost job creation. In particular, support will be heightened in terms of employment services and technical training, while multiple steps will be taken to stabilise and expand employment."
Citing statistics, he pointed out that a record high of 11.58 million college graduates are entering workforce this year which, he added, was a good thing because young people can inject energy and vitality into society.
Second Centenary Goal
Moreover, the premier while elaborating on his policies to fulfil the tasks his tenure inherits, noted that deepening reform and opening-up was essential for advancing Chinese modernisation and achieving the country's 'Second Centenary Goal'.
It may be noted here that the goal, set by the CPC at its 18th National Congress and further defined by the CPC at its 19th National Congress in October 2017, seeks "to develop China into a great modern socialist country that is prosperous, strong, democratic, culturally advanced, harmonious and beautiful by the middle of the 21st century."
Read more: China's new premier says 'high-quality development' a priority
In 2021, the CPC accomplished the First Centenary Goal – building a moderately prosperous society in all respects.
While noting that this year marks the 45th anniversary of reform and opening up in China, Li said China will open wider to the world and welcome investors from across the globe.
He added that deepening reform and opening up was essential for advancing Chinese modernization and achieving the country's Second Centenary Goal.
Strengthening private enterprises
Moreover, the new premier also assured that private enterprises in China will enjoy a better environment and broader space for development.
This government will continue to foster a market-based and law-based business environment in alignment with international standards and create a level playing field for private enterprises and help entrepreneurs grow and thrive, he stressed.
Growth target 'no easy task'
However, striking a modest and 'realistic' tone, the new premier in the same breath also warned that the country's five per cent growth target for 2023 will not be "easy" to achieve.
"I'm afraid that reaching our growth target of around five per cent will be no easy task, and will require that we redouble our efforts," Li said.
Li said that the modest figure "has been determined after a comprehensive consideration of various factors".
He warned of "many new challenges" to growth but added that most people "don't fix their sights every day" on the country's growth figures.
Instead, he said, they care more about "specific issues close to them" such as housing, employment, income, education and health.
Opening up drive
During the course of China's 45-year process of economic reform and opening up, the Chinese government has continued to give support to new enterprises in order to facilitate rapid entry, development, and success.
Chinese economists and experts during the recent high-level meetings have said that the enterprises generate remarkable upstream and downstream effects, drive the rapid development of local economies, and create substantial tax revenues and employment opportunities.
Therefore, the rapid entry and development of enterprises have been a direct impetus for the rapid economic development of China since the inception of the reform and opening-up policy after 1978—the beginning of reform and opening-up drive.


Source link