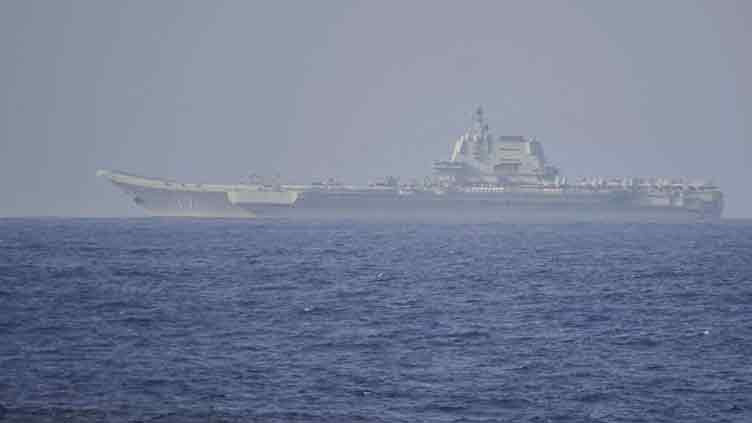 China sent warships and aircraft near Taiwan for a second day on Friday, Taipei said, after President Tsai Ing-wen angered Beijing by meeting with US House Speaker Kevin McCarthy.
Three Chinese warships sailed in waters surrounding the self-ruled island, while a fighter jet and an anti-submarine helicopter also crossed the island's air defence identification zone, Taiwan's Ministry of National Defence said.
On Wednesday, China's Shandong aircraft carrier had sailed through Taiwan's southeastern waters on its way to the western Pacific, hours before Tsai met McCarthy in Los Angeles.
Tsai told reporters her government was committed to ensuring "the free and democratic way of life of the people of Taiwan" before she left Los Angeles, where she was stopping over on her way back from Latin America.
"We also hope to do our best to maintain peace and stability between the two sides," she added.
Beijing had repeatedly warned against the meeting and issued another strong rebuke on Thursday.
"China will take firm and forceful measures to firmly safeguard national sovereignty and territorial integrity," foreign ministry spokeswoman Mao Ning said.
Last August, China deployed warships, missiles and fighter jets into the waters and skies around Taiwan for its largest show of force in years following a trip to the island by McCarthy's predecessor Nancy Pelosi.
Its response to the Tsai-McCarthy meeting has so far been on a much lower level, but still left Taiwan on alert.
Premier Chen Chien-jen said on Friday that Taiwan's defence and security agencies were keeping a close eye on developments, and asked "the public to rest assured".
Also read: China plans $500 million subsea internet cable to rival US-backed project
On Thursday, the defence ministry said three warships had been detected around the Taiwan Strait and one Chinese naval helicopter crossed the island's ADIZ.
The display prompted calls from the United States asking China "to cease its military, diplomatic and economic pressure against Taiwan and instead engage in meaningful diplomacy".
"We remain committed to maintaining open channels of communication so as to prevent the risk of any kind of miscalculation," State Department spokesman Vedant Patel told reporters.
McCarthy, who is second in line for the US presidency, had originally planned to go to Taiwan himself but opted instead to meet Tsai in California.
The decision was viewed as a compromise that would underscore support for Taiwan but avoid inflaming tensions with China, a move analysts say has so far proven successful.


Source link