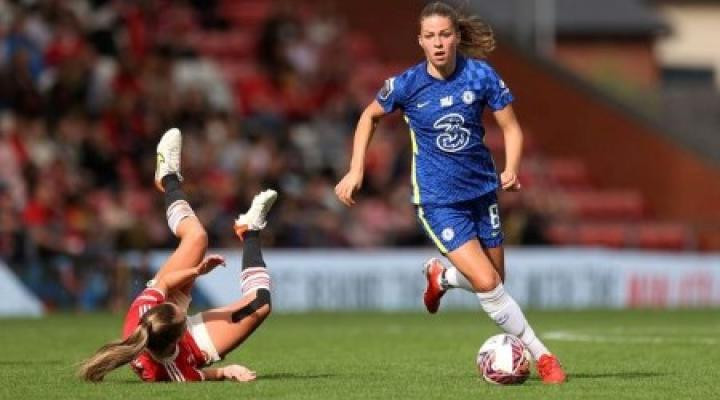 Chelsea midfielder Melanie Leupolz has nothing but praise for her club after the support they provided during her pregnancy, including hiring specialists for training.
Players in the English Women's Super League receive maternity cover as part of an agreement between the Football Association and Professional Footballers Association that came into effect from the 2022-23 season.
When Leupolz announced her pregnancy in early 2022 the deal was not effective, but the German international is grateful for the support she received from Chelsea and coach Emma Hayes. "Chelsea were doing much more than they had to do and that's why I'm really thankful," Leupolz told Sky Sports.
"Emma has a child herself and she knows what's important. "We had a catch-up every two weeks, talked about my training programme, what I was doing in Germany and after birth, how I can get back to my strength and fitness. "Other clubs should take Chelsea as an idol and ask questions about how we did it because, in my experience, they were super."
Hayes urged Women's Super League clubs to offer more support to players who are mothers. "If a player tears an ACL, you do everything possible to get them back on the pitch in nine to 12 months," Hayes said.
"We should be exactly the same with a woman that has a baby, but we don't. I think we have to ask ourselves more seriously why that is. "We (Chelsea) pride ourselves on leading the way in many ways and I know the job we've done with Melanie is the best we possibly could," she added.
Leupolz, 28, signed a contract extension in January, something the player says gave her peace of mind, as Chelsea had offered her the deal months earlier while she was recovering in Germany.
"When you look on the internet, there's no information about athletes who are getting pregnant and giving birth and coming back, so it was really hard …. But they offered a contract straight away," she said. Leupolz has made four appearances for Chelsea since giving birth in October and is aiming to play for Germany at this year's World Cup in Australia and New Zealand.


Source link