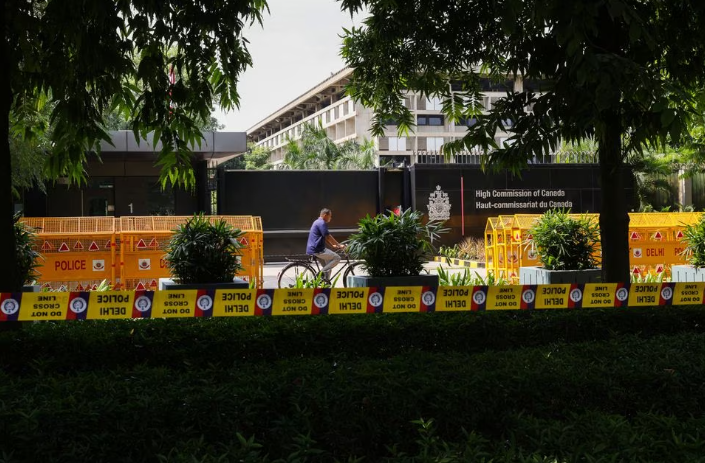 Canada cuts some consular services in India amid murder row

NEW DELHI:

Canada on Friday said it was temporarily suspending in-person operations at consulates in several Indian cities and warned of visa processing delays amid a diplomatic dispute over the murder of a Sikh separatist leader in British Columbia.
The announcements affecting consulates in Bengaluru, Chandigarh and Mumbai came hours after Foreign Minister Melanie Joly said Canada has withdrawn 41 diplomats from India.
Despite the dispute, two senior Indian government sources told Reuters the uproar would not spill into a trade dispute or impact investment, with imports from Canada continuing to flow.
Bilateral trade touched $8 billion in 2022.
India last month asked Ottawa to reduce its diplomatic presence after Prime Minister Justin Trudeau cited what he said was credible evidence of a potential link between Indian agents and the murder of Hardeep Singh Nijjar.
India denies any connection to the shooting outside a Sikh temple in June.
"The Consulates General of Canada in Bengaluru, Chandigarh and Mumbai are temporarily suspending in-person operations," said a statement from the Canadian High Commission, or embassy, in New Delhi, adding that services remain normal in the capital.
'strong connection'
Canada's Immigration, Refugees and Citizenship Canada (IRCC) department said it was reducing employee numbers in India to five from 27, with visa processing times likely to be impacted even though the majority were handled abroad.
"Canada has a strong connection with Indian citizens, and will continue to welcome them, whether they wish to come here to visit, work, study, be reunited with loved ones, or live permanently in the country," it added.
Around 2 million Canadians, some 5% of the overall population, have Indian heritage. India is also Canada's largest source of foreign students, roughly 40%.
India has dismissed as absurd Trudeau's suspicions that its agents were linked to the murder of Nijjar, 45, a Canadian citizen whom New Delhi had labelled a terrorist.
The Indian foreign ministry defended its downsizing of Canada's diplomatic presence and rejected Joly's statement that it violated the Vienna convention on diplomatic relations.
"The state of our bilateral relations, the much higher number of Canadian diplomats in India, and their continued interference in our internal affairs warrant a parity in mutual diplomatic presence in New Delhi and Ottawa," it said.