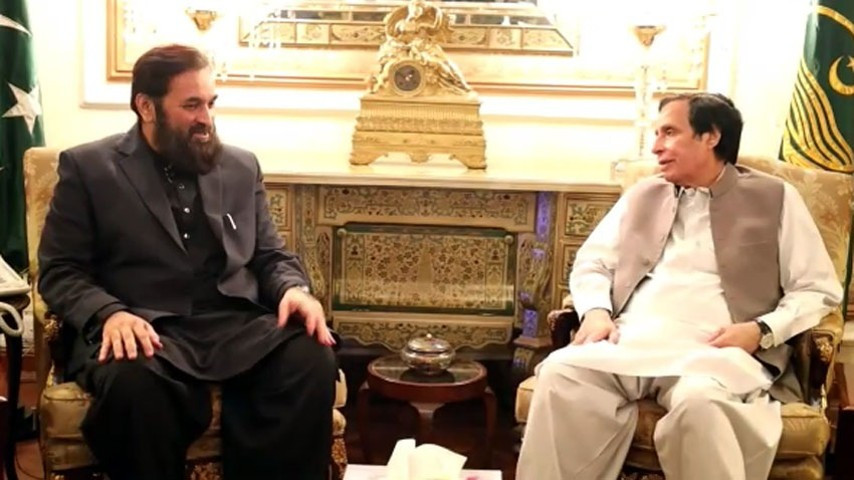 [ad_1]
Governor Punjab Balighur Rehman de-notified Punjab Chief Minister Chaudhary Pervaiz Elahi in the late hours of Thursday, effectively dissolving his provincial cabinet and likely triggering a legal battle over the province's political throne.
"Since CM has refrained from obtaining Vote of Confidence at the appointed day and time therefore he ceases to hold office. Orders issued this evening," he wrote on his official Twitter handle shortly after midnight, sharing a copy of his orders.
Since CM has refrained from obtaining Vote of Confidence at the appointed day and time therefore he ceases to hold office. Orders issued this evening pic.twitter.com/ZWnK376DfP
— M Baligh Ur Rehman (@MBalighurRehman) December 22, 2022
"Consequent to the facts that Ch Pervaiz Elahi, CM Punjab, refrained from obtaining vote of confidence at 1600 hrs yesterday, in line with an Order under Article 130 (7) of the Constitution of Islamic Republic of Pakistan, issued under my hand on 19th December 2022, in line with Rule 22 (7) of the Rules of Procedures of Provincial Assembly of Punjab, 1997, and that he still has not done so ever after the lapse of another twenty four hours, I am satisfied that he does not command the confidence of the majority of the members of the Punjab Assembly and therefore ceases to hold his office with immediate effect," stated a copy of the Punjab Governor's order.
According to the notification, the provincial cabinet stands dissolved and Pervez Elahi is asked to continue as chief minister until his successor enters the office.
Read more: Governor cannot legally de-notify chief minister, says Punjab AG
"In terms of Article 133 of the Constitution, Ch. Pervaiz Elahi, former Chief Minister of the Punjab, is hereby asked to continue to hold office until his successor enters upon the office of the Chief Minister," it added.
The late night development is the latest episode in the ongoing political and constitutional crisis in Punjab, where the opposition Pakistan Muslim League-Nawaz (PML-N) has been threatening to oust CM Pervez Elahi for the past week in a bid to forestall the ruling Pakistan Tehreek-i-Insaf's (PTI) attempts to dissolve the provincial assembly and trigger early elections.
In an interview with The Express Tribune on Thursday, Punjab Advocate General Ahmed Awais contested the constitutional value of CM Elahi's likely de-notification by the Punjab governor. He said that the PML-N would be caught in its own political trap if it uses the office of the governor to oust the Punjab chief minister.
Speaking about the legal value of a possible notification, AGP Awais said that it would have no constitutional value and that the chief minister cannot be de-notified like that by law. He urged the governor not to issue "unconstitutional" orders as he would not allow them to be implemented.
Also read: Only early polls can steer country out of quagmire, reiterates Imran
"I have all the rights under Article 209-A and 235," he warned.
On December 19, Governor Balighur Rehman had directed Chief Minister Elahi to seek a vote of confidence on December 21 after PML-N and PPP lawmakers submitted a no-trust motion against Elahi.
However, Speaker Sibtain Khan claimed that the governor's letter asking the chief minister to seek a vote of confidence was against the assembly rules as well as the Constitution.
PTI chief Imran Khan had earlier announced that his party would dissolve the Punjab and Khyber-Pakhtunkhwa governments on Dec 23 (Friday).

[ad_2]
Source link