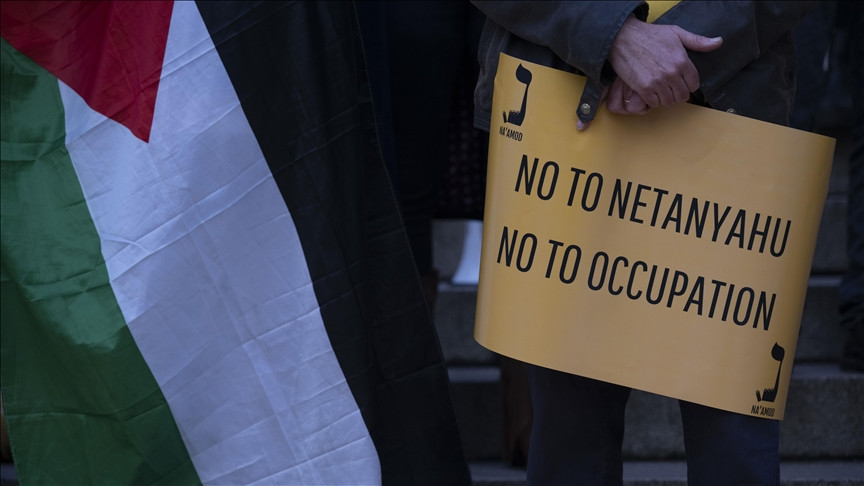 A group of Jews living in the UK held a demonstration Wednesday in London to protest the Israeli government's "apartheid policies."
Some 30 people took part in the protest held by the Jewish activist group Na'amod outside the UK Foreign Office, calling for more international pressure on Israel to achieve peace in the region.
They called on the British government "to not open arms" to the Israeli government and to support freedom and equality for all Palestinians and Israelis.
Chanting slogans against Israeli policies which foster "occupation and apartheid," protesters held signs saying "No democracy with occupation."
Other signs carried by protesters said "democracy and occupation cannot coexist" and "No to Netanyahu, no to occupation," referring to Israeli Prime Minister Benjamin Netanyahu's visit to the UK on Thursday.
They also ripped a red carpet and chanted: "No red carpet for occupation."
'More settlements to not bring freedom for all'
Speaking to Anadolu, Marco, a member of the group, said the British government should not invite someone from the Israeli government, which is committing vast human rights abuses in Palestine, as the international community says.
"We think there should be stronger condemnations rather than an agreement to defend it (the Israeli government) in the international arena," he said.
On the new Israeli law that paves the way for restoring four illegal settlements in the north of the occupied West Bank, Marco said that more settlements is not the way forward to obtain equality and freedom for everybody in the region.
"And it's going to entrench the occupation even more. So while that's an issue, the issue is also that the bigger system around it keeps being maintained of occupation and apartheid in the region," he added.
In response to Israeli Finance Minister Bezalel Smotrich's recent remarks that "Palestinians don't exist," Marco said this is wrong and Palestinians have legitimate demands for freedom and equality.
"I think denying their existence is not going to make them go away," he added.


Source link