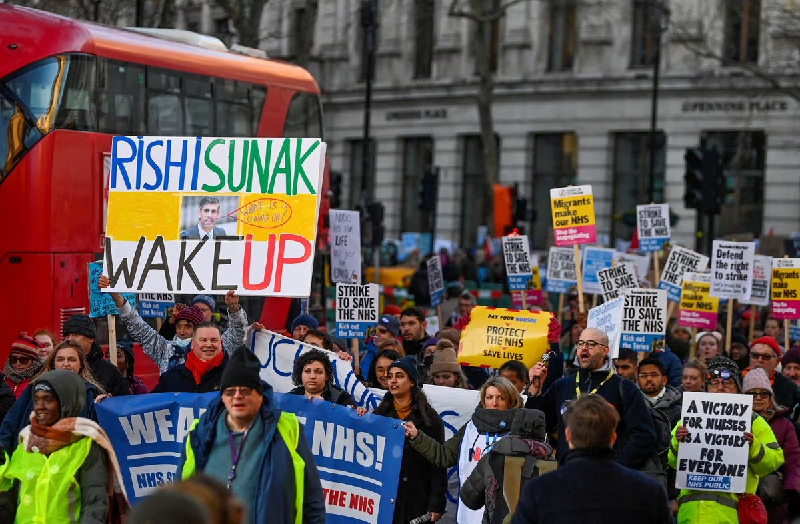 Junior doctors in Britain began a four-day strike on Tuesday over pay that is likely to cause unprecedented disruption to the health service, prompting the government to warn of a risk to patient safety.
Tens of thousands of junior doctors — qualified physicians who make up nearly half of the medical workforce — are striking for pay rises better aligned with inflation, in the latest disruption to affect the state-funded National Health Service (NHS).
The British Medical Association (BMA), the union representing doctors, wants a 35% rise, arguing that members have suffered a 26% real terms cut in pay over 15 years. Tuesday's walkout followed a three-day doctors' strike last month.
"This next round of strikes will see unparalleled levels of disruption, and we are very concerned about the potential severity of impact on patients and services across the country," NHS England National Medical Director Stephen Powis said.
He said there will be "considerably more" cancellations in operations and procedures this time than the 175,000 that were rescheduled during the previous walkout, but added the NHS was working to ensure emergency services are kept intact.
"We've also asked (hospitals) to reschedule procedures and outpatients as quickly as possible but this will take weeks to recover from," Powis told BBC Radio.
The BMA has said the strikes by junior doctors, some of whom are very experienced, could be stopped if health minister Steve Barclay put a credible pay offer forward.
"Not only will the walkouts risk patient safety, but they have also been timed to maximise disruption after the Easter break," Barclay said in a statement.
He says the BMA's demands are unreasonable and would mean an increase of more then 20,000 pounds ($24,840) for some doctors.
The strike is the latest to involve NHS staff, following walkouts by nurses, paramedics and others demanding rises that better reflect annual inflation running at more than 10%.
($1 = 0.8052 pounds)


Source link