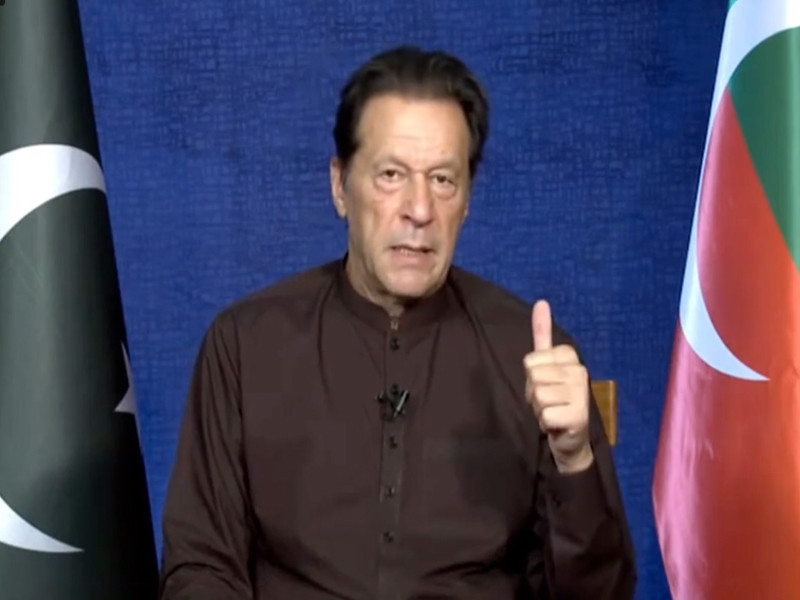 Former prime minister and PTI Chairman Imran Khan has said that it has become inevitable to govern the country in an "unprecedented way" to deal with the prevailing economic crisis.
"We have to take those steps that have not been taken ever due to public pressure and other reasons… in parliamentary democracy, coalition governments are very weak," he said in an interactive session with interactive Zoom session with digital broadcasters and economic analysts on Tuesday.
Imran said taking "big and bold decisions" are need of the hour to stabilise the country's economy particularly to stop the bleeding of public sector enterprises.
Since being ousted from power in April this year, Imran has time and again called upon the PML-N-led government to dissolve assemblies and hold transparent polls to save the country from "economic collapse".
https://www.facebook.com/PTIOfficial/videos/881207896177640/
The former premier said for wealth creation the country would have to focus on increasing exports and remittances, adding the political stability and stable government required to steer the country out of the debt trap. "Political stability is linked with the economy… which is the only way to stop the rupee depreciation."
He said investors' confidence has been shattered "because no one knows how long this government will last".
"Markets can sustain everything but uncertainty," he added.
Moreover, Imran said the country is facing an external financing gap of $30 billion which he said is also the reason that value of the rupee was constantly depreciating against the dollar. "All these factors are putting pressure on the rupee."
Social unrest
While responding to a question, Imran expressed fear that the economic condition is deteriorating with each passing day which could lead to "social unrest".
"I am worried that Pakistan will descend into social unrest if elections are not held and If we don't act fast, the game will be out of everyone's hand," he remarked.
The PTI leader said people are furious over the exorbitant increase in the tariff of electricity bills, flour and other essential commodities. "The sooner they hold elections, the easier it will be to recover from this crisis."
Imran said those who wanted to run this system are only doing it for their own vested interests. "I will soon announce the future course of action as only early and transparent polls are the way forward."
Army chief appointment
Speaking about his "controversial" stance on the next army chief appointment, Imran Khan expressed surprise, saying how could "corrupt and convicted" leaders – Nawaz Sharif and Asif Zardari – be allowed to appoint the military's chief.
"The major difference between the West and Pakistan is that there is no one above the law in the West," he said, adding, "The rule of law is a major difference between humans and animals."
Also read: Combat threats with counter-threats: Imran
"What will be our moral standing if we allow absconder, corrupt and convicted person [Nawaz] to appoint the army chief."
Imran while commenting on PM Shehbaz Sharif's meeting with his elder brother Nawaz in London said, "How can a prime minister discuss the matter of army chief appointment with absconder."
"We are looking into this matter from legal aspects," he said, adding that only a 'legitimate government' that comes to power after the elections has the right to elect the next military chief.
He also reiterated that the establishment could have saved his government from the opposition's no-confidence motion as "they were receiving reports from agencies".
"I told them [establishment] that due to global commodity super cycle country could not afford political instability."
Also read: Imran will malign entire institution if COAS not appointed of his choice: Maryam
Imran went on to say that the political instability following his ouster from power caused "huge damage" to the economy.
The foreign exchange reserve, remittances and exports have dropped after my government was toppled, the former premier added.
"Now they [World Bank, IMF] all are predicting that Pakistan is moving towards social unrest as inflation is at record level… the economy's outlook has been turned bleak."
A day earlier, the PTI chief encouraged his party leaders and supporters to threaten back those threatening them from unknown numbers.
Invoking the mysterious figures of 'Mr X' and 'Mr Y', the PTI chief urged the party activists to smash "the idol of fear" and combat their threats with similar threats.
He also questioned on the Director General of the Inter-Services Public Relations (ISPR) decision of rebutting his statement about the army chief's appointment, saying the DG ISPR should have at least understood what he said and what it meant.


Source link