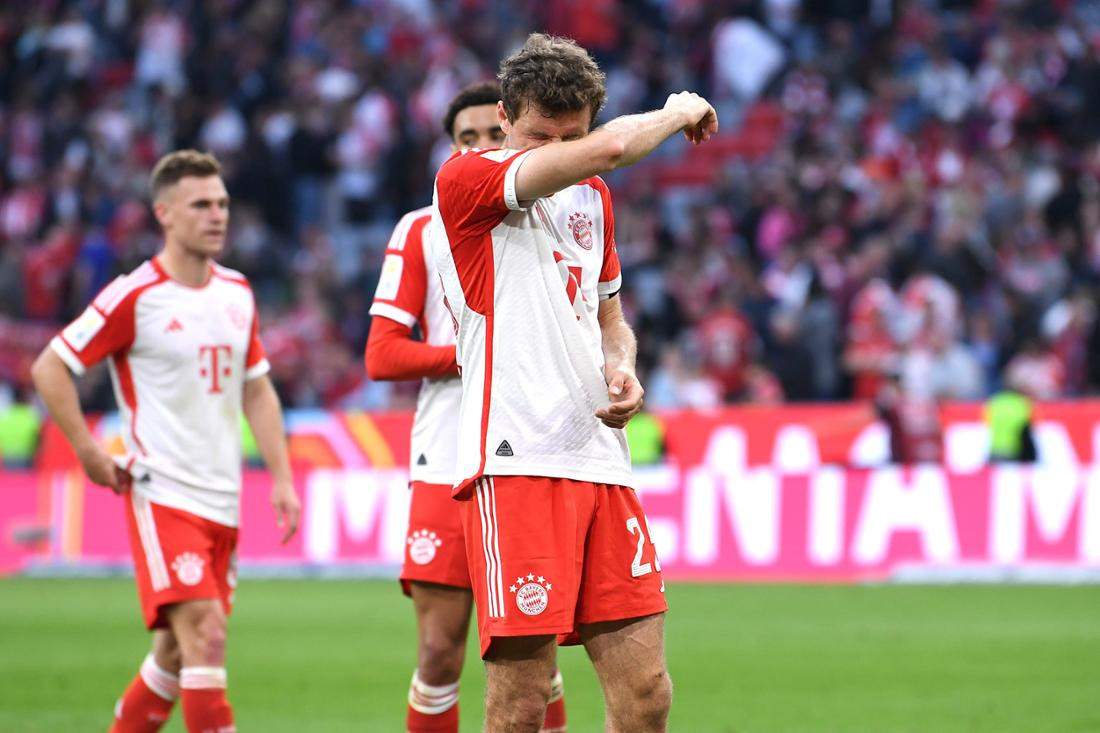 Bayern Munich captain Thomas Mueller said his side were not out of the Bundesliga title race after the 3-1 home loss against RB Leipzig on Saturday gave Borussia Dortmund the edge.
Dortmund can go two points clear with one round of games remaining by winning at Augsburg, but Mueller, 33, was confident his side could come back.
"Of course" the veteran told Sky Sports Germany, "we can still be German champions."
"Dortmund still need to win twice and we'll see what happens.
"I've won a few championships, even when we weren't big favourites. There's still a chance."
Mueller, who came through the junior ranks at Bayern, has won 11 titles in Munich, including the last ten in a row.
"They have to win both games and I want to see that first.
"If they do that then I congratulate them, but until then we'll be together and do everything we can to get three points next week."
Bayern manager Thomas Tuchel said "the season isn't over" but admitted that his side were not playing well enough.
"When you play so far below your level, then it's hard to win games and when it's hard to win games, it's hard to win (the title)."
Taking over from the sacked Julian Nagelsmann in late March, Tuchel has won just five of 11 matches in charge of Bayern, a period which has included elimination from the Champions League and the German Cup.
Bayern's final game is at Cologne, while Dortmund play at home against Mainz, with the games kicking off simultaneously on Saturday.
A "deeply disappointed" Bayern CEO Oliver Kahn, who made the decision to sack Nagelsmann and replace him with Tuchel, said it was "bitter" that his side "did not have the title in our hands anymore."
"We had a giant chance to become German champions and we gave it away," he said.
"(Now) we're relying on other results on other pitches – but it's not over yet.
"It's only over when the referee in Cologne signals that it's over."
Sporting director Hasan Salihamidzic defended the decision to fire Nagelsmann, who had lost only three of 37 games before losing his job.
"I would do it again because it was necessary. Thomas Tuchel has really done a great job. Things will improve, of that I'm sure," he said.


Source link