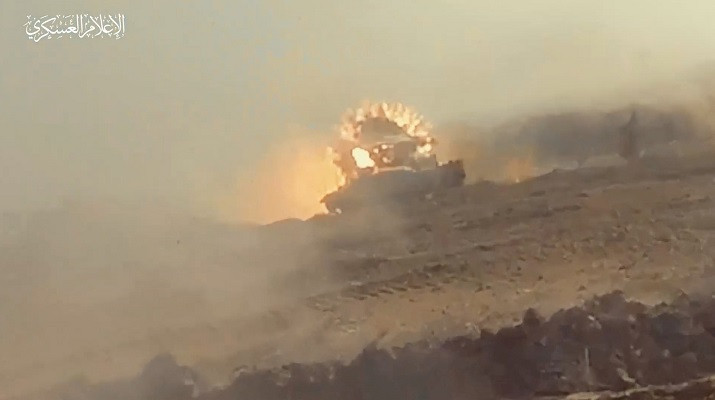 GAZA:

More foreigners prepared to leave the besieged Gaza Strip on Thursday as the Palestinian authorities said at least 195 Palestinians died in Israeli attacks on the Jabalia refugee camp, strikes that Israel claimed killed Hamas commanders.
The Gaza health ministry said at least 8,796 Palestinians in the narrow coastal enclave, including 3,648 children, have been killed by Israeli strikes since October 7.
At least 320 foreign citizens on an initial list of 500, as well as dozens of severely injured Gazans, crossed into Egypt on Wednesday under a deal between Israel, Egypt and Hamas.
Passport holders from Australia, Austria, Bulgaria, the Czech Republic, Finland, Indonesia, Italy, Japan, Jordan, the United Kingdom and the United States were evacuated.
Gaza officials said the Rafah border crossing would reopen on Thursday so more foreigners could exit. A diplomatic source said some 7,500 foreign passport holders would leave Gaza over about two weeks.
Explosions were heard in the early hours of Thursday around the al-Quds hospital in densely populated Gaza City, the Palestinian Red Crescent said. Israeli authorities had previously warned the hospital to evacuate immediately, which UN officials said was impossible without endangering patients.
Gaza's media office said on Thursday that at least 195 Palestinians were killed in the two Israeli attacks on Jabalia, with 120 missing. At least 777 people were wounded, it said in a statement.
Palestinians on Wednesday sifted through rubble in a desperate hunt for trapped victims. "It is a massacre," said one witness.
UN human rights officials said strikes on the camp could be a war crime.
"Given the high number of civilian casualties and the scale of destruction following Israeli air strikes on Jabalia refugee camp, we have serious concerns that these are disproportionate attacks that could amount to war crimes," the UN High Commissioner for Human Rights wrote on social media site X.
The Israeli military announced the death of another soldier in Gaza fighting, bringing to 17 the number killed since ground operations were expanded on Friday.
Amid growing international calls for a humanitarian pause in hostilities, conditions in the seaside enclave are increasingly desperate under Israel's brutal and relentless assault and tightened blockade. Food, fuel, drinking water and medicine have run short.
Dr Fathi Abu al-Hassan, a US passport holder waiting to cross into Egypt on Wednesday, described hellish conditions in Gaza with no water, food or shelter.
"We open our eyes on dead people and we close our eyes on dead people," he said.
Hospitals, including Gaza's only cancer hospital, have struggled as shortages of fuel forced them to shut down. Israel has refused to let humanitarian convoys bring in fuel, claiming that Hamas fighters would divert it for military use.
Ashraf Al-Qudra, a spokesperson for the Gaza health ministry, said the main power generator at the Indonesian Hospital was no longer functioning due to lack of fuel.
The hospital was switching to a back-up generator but would no longer be able to power mortuary refrigerators and oxygen generators. "If we don't get fuel in the next few days, we will inevitably reach a disaster," he said.
More than 20,000 wounded people still in Gaza: MSF
More than 20,000 wounded people are still trapped in the Gaza Strip, according to Doctors Without Borders (MSF), despite initial evacuations of foreign passport holders and badly injured Palestinians across the border to Egypt.
MSF noted the evacuations of "a number of severely injured" people in a statement on Wednesday, saying that its 22 international staff members in Gaza had also been among those who left the territory via the Rafah border crossing.
"However, there are still over 20,000 injured people in Gaza with limited access to healthcare due to the siege," it said.
MSF's Palestinian staff were still offering care in the territory, it added, and another international team was waiting to enter the territory to replace those who left "as soon as the situation allows".
The organisation went on to call for a greater number of people to be evacuated, as well as for a ceasefire and for more critical aid to be allowed in.
"Those who wish to leave Gaza must be allowed to do so without further delay. They must also be allowed the right to return," the statement said.
AFP reporters at Gaza's southern border on Wednesday saw ambulances whisking away wounded evacuees to Egyptian field hospitals, with Egyptian officials saying the Rafah crossing had admitted 335 foreigners or dual nationals and 76 seriously wounded and sick people.
The head of the UN agency that works to help Palestinian refugees, Philippe Lazzarini, managed to reach the territory on Wednesday via the Rafah crossing, telling journalists there he had "never ever seen" anything like it.
"I was shocked by the fact that everyone there was asking for food, was asking for water," said Lazzarini, the most senior UN official allowed into the besieged territory since the war began.
Blinken departs for Israel again
U.S. Secretary of State Antony Blinken was due to depart on Thursday for his second visit to Israel in less than a month. He plans to meet Israeli officials including Prime Minister Benjamin Netanyahu on Friday to voice solidarity but also to reassert the need to minimize Palestinian civilian casualties, his spokesperson said.
Blinken will also stop in Jordan, one of a handful of Arab states to have normalised relations with Israel. On Wednesday Jordan withdrew its ambassador from Tel Aviv until Israel ends its assault on Gaza. Israel said it regretted Jordan's decision.
In Jordan, Blinken will underscore the importance of protecting civilian lives and reiterate a U.S. commitment to ensure Palestinians are not forcibly displaced from Gaza, a growing concern in Arab nations, the spokesman said.
Blinken will also pursue talks led by Egypt and Qatar on securing the release of all of the hostages held by Hamas.
Also on Thursday, the U.S. House of Representatives could pass with Republican support a bill providing $14.3 billion in aid for Israel.
But it is unlikely to become law, as it faces stiff opposition in the Democratic-controlled Senate and the White House has threatened a veto. President Joe Biden wants a $106-billion bill that would fund Ukraine, border security and humanitarian aid as well as money for Israel.