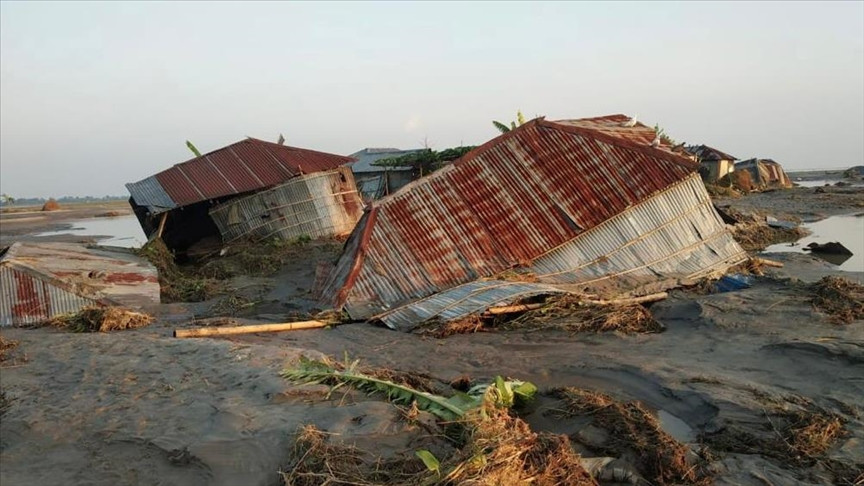 A fashion industry worker, Muhammad Ershadul Haque, 36, migrated to the Hemayetpur neighborhood in Savar on the outskirts of the Bangladeshi capital Dhaka — more than 300 kilometers (186 miles) from his village in northern Gangachara.
He left Babupara in the northern Rangpur district after he lost his last farming land to a Teesta River erosion.
"I worked as a day wager and rickshaw puller for years in nearby districts as we don't have work in our native town. Finally, with some of my fellow villagers we moved to Dhaka in search of employment about a decade ago," he told Anadolu.
Muhammad Tafshil Hossain, Khalekuzzaman, and Imdadul Haque, in their 50s and 60s, also from Gangachara, have similar stories.
They told Anadolu over the phone that they have lost their agricultural land to erosions due to floods since the 1990s.
"My nephew in his 40s who lived on fishing in Teesta for generations has migrated to Comilla district, southeast of Dhaka, and worked as a day wager," said Hossain, a fisherman who is unemployed due to scarcity of fish.
The 414-kilometer (257-mile) Teesta River originates in the eastern Himalayas and crosses northern Bangladesh. Bangladesh has 57 transboundary rivers, with 54 of them shared with India.
Thousands in northern Bangladesh districts, who have already been devastated by the Teesta River water control in upstream India, have begun to fear that they will endure more suffering as neighboring India plans to further divert the joint Teesta River waters.
West Bengal's irrigation department has recently decided on a plan to dig two more canals under the Teesta Barrage Project to divert water for agricultural purposes, according to media reports.
Despite repeated assurances from the Narendra Modi government, Bangladesh could not make India sign the long-standing Teesta water-sharing agreement that has been pending over the last 12 years.
Eleven small rivers mostly in Bangladesh's northern districts that are dependent on Teesta river water flows are also drying up due to waters withdrawing upstream in India in the absence of a fair water-sharing deal.
Further water diversion may lead to irreparable situation
Muhammad Faridul Islam, 55, an activist who has been involved in the Save Teesta movement in Rangpur and a central member of the Bangladesh Environment Movement, told Anadolu that Teesta has lost its water-holding capacity and caused erosion and desertification on both banks.
The river was not aggressive before the 1990s, with the establishment of dams in the Teesta River.
Teesta's erosion also caused longstanding poverty in the northern region, popularly stigmatized as "monga," said Islam, adding that the situation also led to internal migration as residents started losing their homes and agricultural lands across the river banks every year.
Monga refers to a yearly phenomenon of poverty and hunger in northern Bangladesh. But the poverty situation had improved.
Since the installment of the Gajoldoba Dam in India upstream of Teesta — the river morphology has started to change drastically with huge ecological and environmental effects, according to Islam.
Also read: Bangladesh invites investment
"Agricultural production has already decreased 30% to 50% in those northern districts due to desertification caused by water control in the upstream," he added, saying further diversion will devastate the region.
Teesta widens up to 8-10 km (5-6.2 mi) during the monsoon season and shrinks to less than 1 km (0.6 mi), becoming a desert in the dry season.
Global fair practice unseen for India-Bangladesh water dispute
Teesta does not have minimum water flow, only limitless char or sandbanks in the dry season and uncontrolled flooding in the rainy season on the Bangladesh side.
Farmers hardly get water for irrigation and navigation in the dry season, according to river experts.
They said such one-sided water control of joint rivers is a violation of international river law and recognized global practices.
Mohammad Azaz, chairman of the River and Delta Research Centre in Bangladesh, said India's practice of joint-river water sharing with other countries in the region like China, Nepal, Bhutan, and Pakistan is considered to be well practiced.
But India makes a different practice with Bangladesh, called unfair practice, he added.
Azaz attributed this unfair practice to poor diplomacy from Bangladesh.
Meanwhile, the Indian government repeatedly blames West Bengal for delaying the Teesta deal, but Azaz said he believes "India can manage it with strong political will."
He also blamed the Joint Rivers Commission (JRC) for being non-functional in addressing the water-sharing dispute.
Smruti S. Pattanaik, a researcher at the India-based think-tank Manohar Parrikar Institute for Defense Studies and Analyses, also found JRC non-functional.
"They (JRC, Bangladesh, and India) don't meet regularly. I believe proper discussion can bring a right solution to address the Teesta water sharing as we have seen India and Bangladesh have solved so many other disputes in bilateral discussions, including years of land disputes in some border sites," she told Anadolu.
With relatively rigid diplomatic ties with Pakistan, India is viewed in a much better light and conducts regular joint river committee meetings with Pakistan. It also conducts fair practice with Islamabad, said Pattanaik.
"But I don't understand why such a practice is unseen between India and Bangladesh despite having a good neighborhood," she added.
Pattanaik pointed out that the lack of a strong political will to solve the dispute is the main problem.
"As India and Bangladesh have enjoyed a good relationship and structural diplomacy certainly since 2014, this is the high time to concentrate on mitigating such issues by taking advantage of the strengthening friendship," she said.
JRC claims it is working to mitigate issues
Bangladesh asked India last month for an explanation of the planned project.
Mohammad Abul Hossen, a JRC Bangladesh member, told Anadolu that the commission's Indian counterpart has not yet offered an official reply.
He said they will bring the issue to the next JRC meeting in Dhaka in early May.
Referring to the international JRC, Hossen said it only said "equitable share" and "no harm" to others in the distribution of joint river water. But there is no specification or definition of "equitable share" concerning how much water is shared on a joint river.
Azaz, however, disagreed with Hossen, saying "equitable share" in international law is quite good in ensuring a fair water share of any joint or international river.


Source link