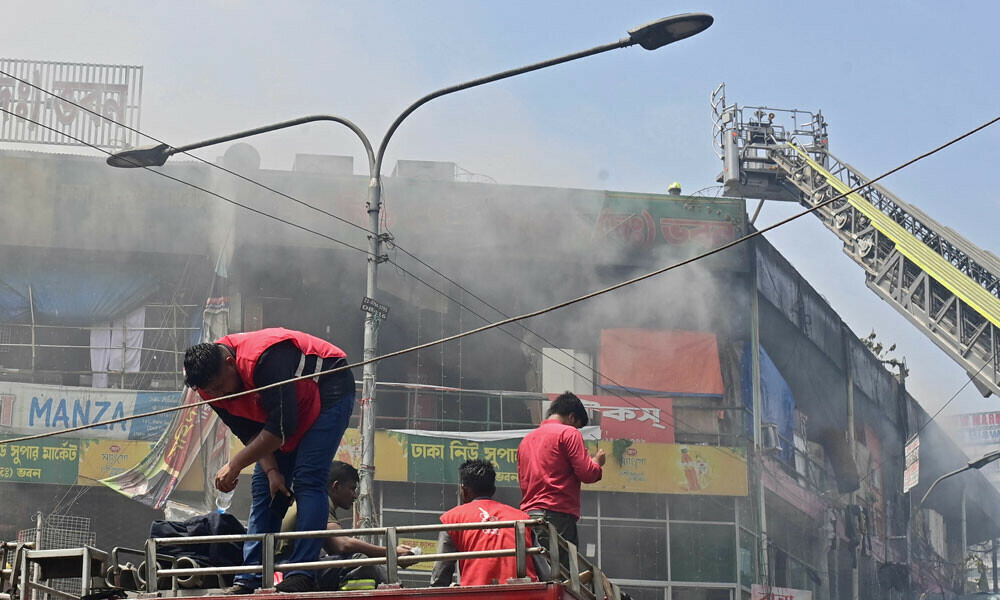 Firefighters, supported by military personnel, in the Bangladesh capital of Dhaka finally extinguished a blaze that had swept through a three-story shopping complex some 27 hours after it erupted, in the second such incident inside two weeks.
Some 30 people, mostly firefighters, were injured during efforts to douse the flames, but there were no other casualties.
The fire broke out in the early hours of Saturday morning, when most of the nearly 1,500 shops in the complex were shut.
While the blaze was brought largely under control within four hours, it took longer to completely douse flames due to heavy smoke in confined spaces and flammable materials, mostly clothing items, fire service official Shahjahan Sikder said.
Most of the stores in the three-storey building were fully stocked ahead of the Muslim festival of Eid later this month.
Images showed shopkeepers and police trying to salvage the stocks, dragging out bundles of goods.
"Eid is just around the corner, and we lost everything. Such a great crisis came upon us at such a time," shop owner Mohammad Rubel said in tears.
Also read: Three Pakistanis among 16 dead in Dubai building fire
It was the second such incident this month. A massive fire ripped through another shopping complex in Dhaka on April 4, destroying some 5,000 stores. Several firefighters were injured during that incident.
Lax regulations and poor enforcement have been blamed for industrial fires that have plagued Bangladesh.
The country and major international clothing brands that manufacture there came under intense scrutiny after several disasters, including a fire at a garment factory in 2012 and a building collapse in 2013 that together killed more than 1,200 workers.
While the garment industry has made strides to improve safety, hundreds of people have still died in fires in other sectors during recent years.


Source link