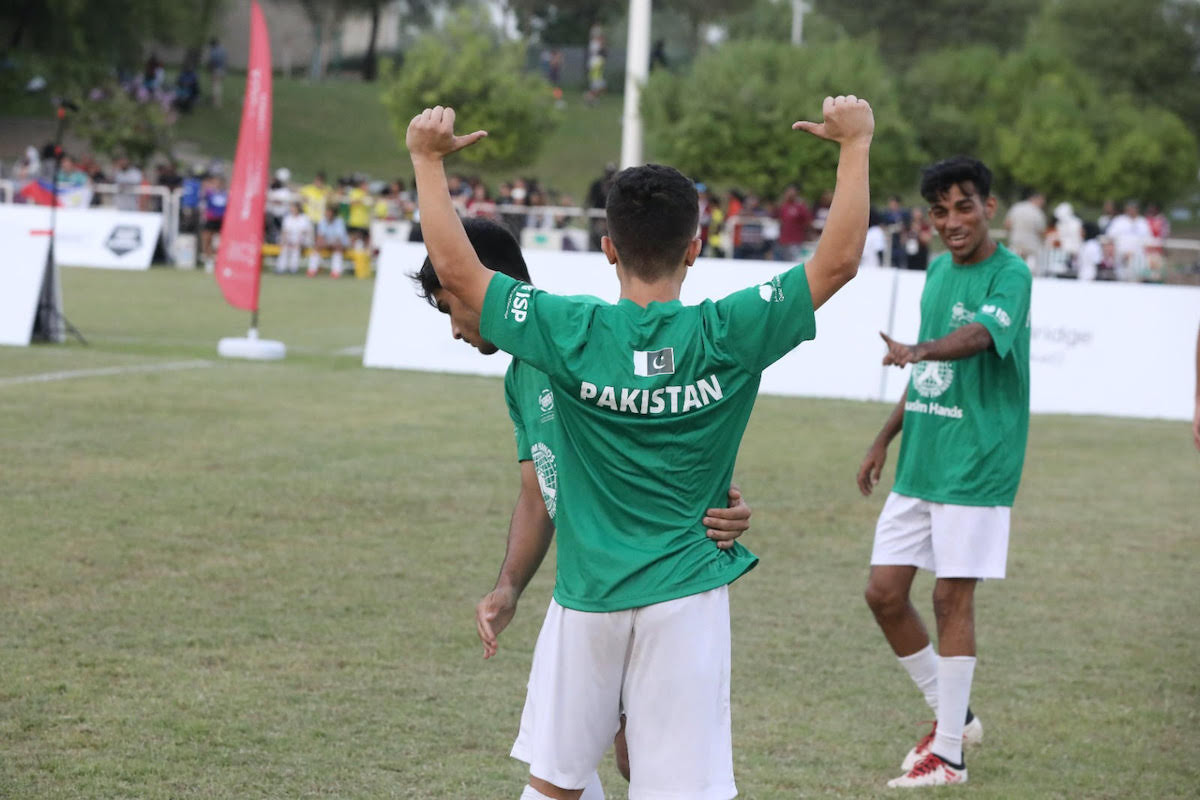 The most famous sport in the world is Football or Soccer, and if one asks about one of the most significant sports events, undoubtedly it would be FIFA World Cup held every four years. Many football enthusiasts plan more than a year in advance to go watch the game and experience the sport at the stadium where the player feels like a part of history itself during the match. What if you get to play at the same venue before the world's top players begin the battle for the World Title? Quite lucky, right? This is what Street Football players from different nations get to experience, and Pakistan is one of those nations.
Street Child World Cup is a global movement that began in 2010, intending to unite street children from five continents ahead of the FIFA World Cup. The tournament provides a platform to champion the rights of street children – the right to identity, the right to protection from violence and the right to education – and challenge the negative perceptions and treatment of street children around the world. Even more specifically, it is a departure from their life on the streets and it provides perspective to them on what life could be like away from that world.
Pakistan has been one of the active nations in this movement since 2014 and has been one of the top teams. In their debut appearance, it finished in third place behind the winner Tanzania and runners-up Burundi.
Pakistan's national football team is ranked 194th in FIFA Men's Ranking. Then how this street football team was formed, and how was it performing well at the World Cup?
Street Child Pakistan Football Team
The First Street Child World Cup was held in South Africa in 2010. Initiated by UK-based nonprofit Street Child United and UK human rights charity the Amos Trust, it was hosted in Durban by Umthombo Street Children and the Durban University of Technology. Pakistan was not part of the first edition. Still, it made it to the second edition when a Pakistan-based nonprofit, Muslim Hands Pakistan, took the initiative in 2014 by the name of 'Maidaan', and a team was formed by the Street Childs taking part in the 2014 Street Child World Cup in Rio de Janeiro, Brazil.
Starting from seven teams and 63 players, the 2022 edition is being held in Doha, Qatar, where 28 teams from 24 nations competed during the 11-day competition from October 8 to 15.
Rehan Tahir, the team manager of team Street Child Pakistan, told The Express Tribune that the 2022 edition is the third time Pakistan has taken part in the Street Child World Cup. Before this edition (4th), held in Qatar, Pakistan had taken part in 2014 in Brazil and 2018 in Russia.
He said that more than 1,700 people were directly connected to the team's formation under this project. The small academies were formed on a zonal, divisional and regional level where the children were trained, equipped, and made part of this project.
"This has been a huge project involving children from neglected areas. This gave them a chance to prove themselves as well as the opportunity to experience the arena where big stars play. These children were either working at a shop or doing something unsuitable for kids of this age, and this was to earn bread for their families. So we called the children interested in football to come and train at the football house formed at Mirpur, Azad Jammu and Kashmir," he said, adding that since 2014, the Pakistan team has been preparing themselves and actively taking part in the competition.
He informed me that the players from around the country are engaged throughout the year to form a team of different age categories, including U14, U16 and U18. Although the Street Child World Cup allows the U17 players, they include players till U18 in Pakistan to give them exposure and enhance their skills to participate in competitions in Pakistan or abroad.
The teams formed to take part in different national competitions throughout the year. Muhammad Rasheed, the head coach of the Pakistan Street Child Football team, is a former national football player who has been attached to this project from day one. Following his contacts and students across the country, he regularly engages the Street Child with different clubs and teams.
"This helps them in getting confidence and exposure to different environments. This is not the only skill we develop, but these kids are also taught technical skills so that they can earn bread when they are not part of the competition," he said.
The team doing wonders
Since its formation and debut appearance in 2014, the team has been making the Pakistani name shine worldwide. After finishing third in the Street Child World Cup 2014, the team went to U16 Norway Cup in the same year and spent third place in the 2015 edition the following year. They then finished second place at China's U16 Chicago KICS Cup 2015 and Gothia Cup 2016.
Following this, they participated in Norway Cup 2016 and Gothia Cup China 2017 before winning the first player at the XI Nations Tournament in Russia in 2017.
After playing in the major tournaments, a team was selected for the Street Child Football World Cup Finals in Russia in 2018. This was a major tournament, and the team finished at the second spot. This was a significant win for the team as, after this, the 11-member squad that was part of this team engaged with different clubs and groups and earned around 70,000 to 80,000 monthly salary. Two of the 11 members are now with a club in Italy. This was done under the partnership of 'Maidaan' with the Kamiyab Jawan Program, where they have to engage players with international clubs.
"This is a major win for us and this global initiative that the kids forced to work in the shop and not get an education are now playing their favourite game and getting skilled simultaneously. The two kids that are now in Italy are just the beginning. We will see many more playing in different countries after this year's Street Child World Cup," said Tahir.
He further added that this is a game mostly played worldwide and where one ball engages 22 players. "You have to be attentive, sharp, and make smart moves to end the game in your favour in a limited time," he said.
Explaining how the selection is made for the team to represent at the Street Child World Cup, Tahir shared that when the children come to their 'Football House', a camp is formed a year before the World Cup. As many are 90 players are engaged after scrutiny from nine academies across the country. The current team includes players from the capital, Islamabad, Balochistan, Khyber Pakhtunkhwa, Punjab, and Gilgit-Baltistan.
"The reason to bring them here is to improve their skills and game and overcome their mistakes. During this time, they are also given technical knowledge of the game and monthly incentives to support their families, and the parents don't have to worry about the finances. This helps the kids to play with peace of mind without worrying about the financial support for their parent and just focus on the game giving 100% in the field," he explained, adding that the caching staff at Football House groom the players technically, tactically, cognitively, and in terms of their reputation, they also do personality grooming.
The 16-year-old captain of the team Muhammad Junaid belonging to KPK says this is a lifetime experience for him. "I have never been out of my city and now I am here in Doha playing football with international teams. It feels great to know that you are playing in the same city where after some months top football teams and players will be playing," Junaid shared with The Express Tribune from Doha.
Junaid got to know about this team when Muslim Hands Pakistan was holding trials to build this team. "This World Cup is my first experience. I had interest in football and in 2021, the trials were being held in KPK and all across Pakistan. It went there and got selected," said Junaid who was able to study till eight grade before he started playing football.
"Since my selection onto the team, our coach has worked very hard with us. We had a camp in Mirpur where there were 80 boys, out of which 15 were selected then after that 10 boys were selected who are in Qatar today. I'm out of the country for the first time, it's great and I'm learning a lot," he said adding that if it was not this he would have never be able to follow the passion for football.
Goalkeeper Khattak had a story that might inspire other kids to follow their dreams. Khattak had no support from his family; they never let him play. Even to deliver the trial, Khattak came without telling his family and skipped work, for which he was severely abused because he didn't get paid that day.
The son of a former Goalkeeper, Khattak was advised not to play this sport by his father who due to financial difficulties, stopped playing football. But now as Khattak made to Doha, his father according to him is 'very happy'. He is glad to be part of the team and that the eight-months long training paid off.
Juanid said that the way they have been practicing day and night had motivated all the players to give their best and continue playing football. "We have to play football in the future, God willing. The way Muslim Hands is supporting us, we will play football in the future as well," he added.
Future of Street Child Football team
This tournament, held every four years, help kids in different nations develop their skills and groom their personality. Thousands of kids play this sport on the streets and have talent but don't get the right platform where they can use their talent to make their name. Initiatives like these help the players get the limelight and deliver the message of giving these kids a chance to prove themselves.
Tahir believes that the players are the primary beneficiaries of the future of this initiative and players. They aim to provide the children with a platform where they can grow up using their skills and interest in the game. "This is no less than any other global tournament. These kids are given a platform where they can make their name globally and make their country proud. This is given much attention globally. Pakistan, if keep working hard in this and the interest of players keep on increasing, then the day is not far that these kids will be playing in the National team of Pakistan to improve the global ranking," he concluded.


Source link