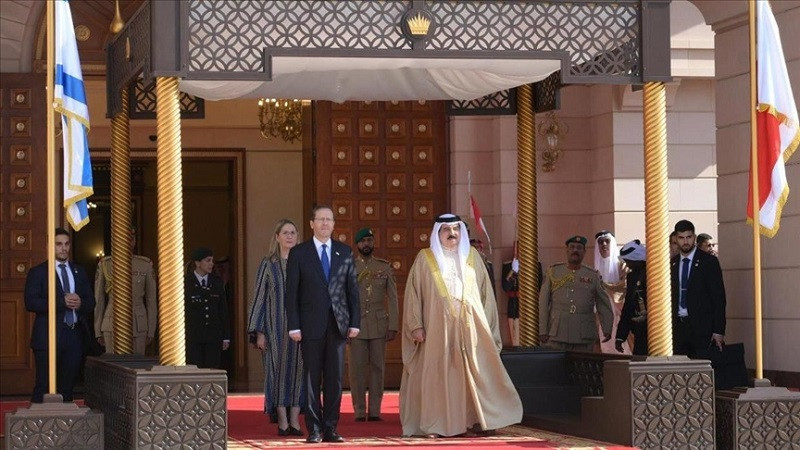 MANAMA:

Bahrain's parliament said on Thursday that the Gulf state's ambassador to Israel had returned home and economic ties had been suspended in protest over the war in Gaza.
However, the government did not confirm the moves, and Israel said it had received no word of any such actions, saying its relations with Bahrain were "stable".
In its statement, the parliament – a consultative body with no powers in the area of foreign policy – said the moves "confirmed Bahrain's historic position in support of the Palestinian cause".
"The Council of Representatives affirms that the Israeli ambassador in the kingdom of Bahrain has left Bahrain and the kingdom of Bahrain has decided on the return of the Bahrain ambassador to Israel," the parliament said in a statement
"The cessation of economic relations was also decided," it said, without making clear who had made the decision.
Read also: Bolivia severs ties with Israel, others recall envoys over Gaza
Reuters was not immediately able to confirm whether the two envoys had returned to their home countries.
Israel's foreign ministry said in a statement: "We would like to clarify that no notification or decision has been received from the government of Bahrain and the government of Israel to return the countries' ambassadors. Relations between Israel and Bahrain are stable."
The parliament's statement was not carried by the kingdom's state television or its official news agency.
Any suspension of diplomatic and economic ties, if confirmed, would mark a significant setback for Israel.
Abraham Accords
Bahrain, which is home to the US Navy's Fifth Fleet, is a signatory of the Abraham Accords, a series of normalisation agreements between Israel and several Arab nations signed in 2020.
Last month, speaking at an investment conference in Saudi Arabia, Bahrain's finance minister Sheikh Salman bin Khalifa Al-Khalifa had said it was important to continue to build bridges when asked about the Abraham Accords.
Days earlier, Bahrain's industry and commerce minister Abdulla bin Adel Fakhro declined to comment when asked at a conference in Abu Dhabi in October about the status of trade and investment ties with Israel.
The latest war in the decades-old Israeli-Palestinian conflict began when Hamas fighters broke through the border on Oct. 7. Israel says they killed 1,400 people, mostly civilians, and took more than 200 hostages.
Read: Iran's Khamenei says normalising Israel ties is a losing bet – state media
Israel's ensuing bombardment of the small Palestinian enclave of 2.3 million people has killed at least 9,601 people, including 3,760 children, according to Gaza health authorities.
Bahrain is a small island on the Gulf where Sunni Muslim allies of Saudi Arabia, the Al Khalifa royal family, rule over a Shia majority population.
Analysts have said the rapprochement with Israel was forged partly through shared fears of Iran.
Bahrain's parliament comprises the Council of Representatives and a 40-member Shura Council appointed by the king.